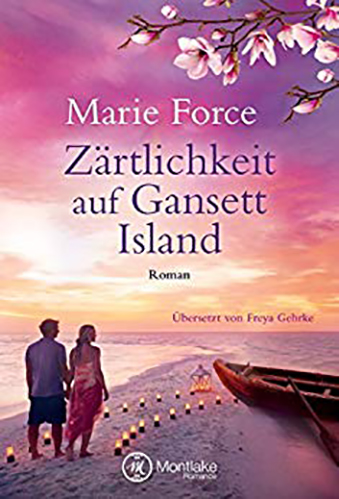 Zärtlichkeit auf Gansett Island
(Die McCarthys 9)
David & Daisy
Dr. David Lawrence hat die letzten beiden Jahre damit verbracht, sich von der Trennung von seiner Jugendliebe Janey McCarthy zu erholen. Als einziger Arzt auf Gansett Island hatte er reichlich Gelegenheit, den Inselbewohnern zu zeigen, dass er nicht mehr der Mann ist, der Janey damals so tief enttäuscht hat. Jetzt muss er es nur noch schaffen, sich selbst zu vergeben.
Die junge Daisy Babson wurde zur neuen Hausdame im McCarthy's Gansett Island Inn befördert. Nachdem ihre letzte Beziehung in einem Ausbruch von Gewalt zu Ende ging, ist sie mehr als bereit für einen Neuanfang. Während ihrer Genesung sind ihre Besuche bei Dr. David Lawrence der einzige Lichtblick. Der attraktive und fürsorgliche Arzt ist in den letzten Wochen mehr als nur ein Freund für sie geworden.
Doch wird es den beiden wirklich möglich sein, gemeinsam ihr Happy End zu finden, oder holen die Schatten der Vergangenheit sie ein?
Marie Force/HTJB, Inc. is a participant in the Amazon Services LLC Associates Program, an affiliate advertising program designed to provide a means for sites to earn advertising fees by advertising and linking to amazon.com.
Nothing in the world can take the place of persistence. Talent will not; nothing is more common than unsuccessful men with talent. Genius will not; unrewarded genius is almost a proverb. Education will not; the world is full of educated derelicts. Persistence and determination alone are omnipotent. 
~ Calvin Coolidge
© Marie Force/HTJB, Inc. Privacy Policy. 
Marie Force, Gansett Island, A First Family Novel, A Wild Widows Novel, A Miami Nights Novel, A Green Mountain Romance, Quantum Series, Fatal Series  and Butler, VT are registered trademarks with the United States Patent & Trademark Office.