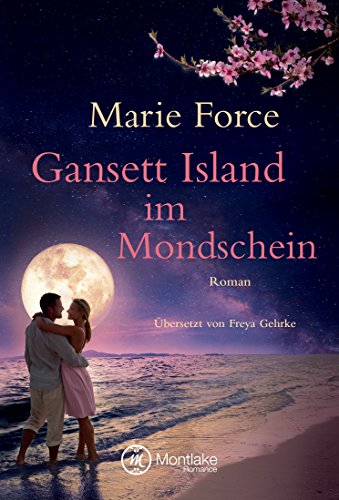 Gansett Island im Mondschein
(Die McCarthys 12)
Shane & Katie
#1 der BILD-Bestseller-Liste von Marie Force.
Ein weiterer wunderbar romantischer Roman um die beliebten Charaktere der Gansett-Island-Reihe.
Nach einer Kindheit mit einem brutalen Vater hat Katie Lawry sich geschworen, alle Männer auf Abstand zu halten. Bis Shane McCarthy sie am Hochzeitstag ihres Bruders Owen vor dem Ertrinken bewahrt. Der charmante Lebensretter ist ihr sofort sympathisch, und da Shane nach Meinung aller ein guter Mann ist, geht sie das Risiko ein, der Anziehungskraft zwischen ihnen nachzugeben.
Mehr als zwei Jahre nach seiner schmerzhaften Scheidung führt Shane, umgeben von seiner geliebten Familie, ein zufriedenes, wenn auch nicht restlos glückliches Leben. Und er weiß mit Sicherheit, dass er es leid ist, in der Vergangenheit zu leben. Seine Zeit mit der süßen und sensiblen Katie erfüllt ihn mit der Hoffnung, er könnte bereit sein, sein Herz erneut zu verschenken.
Umgeben von all ihren Freunden und Bekannten auf Gansett Island wagen Shane und Katie gemeinsam den ersten Schritt in eine gemeinsame Zukunft. Aber ist ihre neue Beziehung stark genug, um einer unerwarteten Herausforderung standzuhalten?
Marie Force/HTJB, Inc. is a participant in the Amazon Services LLC Associates Program, an affiliate advertising program designed to provide a means for sites to earn advertising fees by advertising and linking to amazon.com.
Nothing in the world can take the place of persistence. Talent will not; nothing is more common than unsuccessful men with talent. Genius will not; unrewarded genius is almost a proverb. Education will not; the world is full of educated derelicts. Persistence and determination alone are omnipotent. 
~ Calvin Coolidge
© Marie Force/HTJB, Inc. Privacy Policy. 
Marie Force, Gansett Island, A First Family Novel, A Wild Widows Novel, A Miami Nights Novel, A Green Mountain Romance, Quantum Series, Fatal Series  and Butler, VT are registered trademarks with the United States Patent & Trademark Office.