Upcoming & Recent Releases
Available now.
Click on the cover to order!
---
Mine After Dark Available for Preorder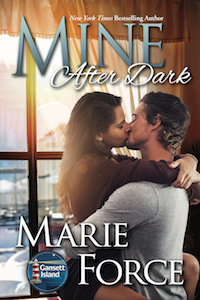 Return to Gansett Island on May 28 for Riley & Nikki's story. Read the first two chapters here. 
He barely knew her, and he can't forget her…
It's the dead of winter on Gansett Island, and Riley McCarthy's mood matches the lousy weather as he and his family work to bring their new business, McCarthy's Wayfarer, back to life. He can't deny that he's been in a funk since Nikki Stokes and her twin sister, Jordan, left the island last fall without saying goodbye. Riley, who'd been hired to fix the leaking roof at their grandmother's home, had liked talking to Nikki and had been looking forward to getting to know her better when she disappeared. Months later, he still thinks of her every day, even if he wishes he didn't. She's hard to forget.
As the manager for Jordan's reality TV career, Nikki finds herself square in the middle of the kind of drama she's had more than enough of, especially since her sister plans to go back to the husband who released a sex tape that devastated Jordan last fall. Enough is enough for Nikki, who quits her job and heads for her happy place—her grandmother's oceanfront home on Gansett Island, hoping she might run into the sweet, sexy guy who fixed the roof last fall. She liked talking to him and wonders if he stayed on the island for the winter. She really hopes he's still there.
The minute Riley hears that Nikki has come back to Gansett Island, he has to see her. He has to know if the spark of attraction he'd felt for her is still there, and more than anything, he'd love to know why he's thought more about a woman he met exactly twice than he ever has about anyone else. Come back to Gansett Island for Riley and Nikki's sweet, sexy story and catch up with many of your favorites, including Mac and Maddie, Adam and Abby, Shane and Katie and Kevin and Chelsea! 
Preorder now—out on May 28!
---
Gansett Island Series Paperbacks in Stores!
Publisher's Weekly made the official announcement that Marie has sold the first six Gansett Island books in mass market paperback to Kensington Publishing for release in stores in 2018. Marie is really excited to bring Gansett to bookstores and paperback readers! This will be the first time the Gansett Series has been in mass distribution paperback format. Read the full announcement from Kensington Publishing. 
From Publisher's Weekly: 
Kensington Publishing CEO Steve Zacharius bought mass market rights to the first six books in romance author Marie Force's Gansett Island series. All six books were previously self-published by the author in digital format. According to Kensington, the series is set on a fictional version of Block Island, in Rhode Island, and tells of the "lives and loves of the McCarthy family and their friends." The publisher adds that Force's books have sold more than 5.5 million units worldwide. The mass market paperbacks are set to begin to be released in summer 2018.
---
Five Years Gone—Out on Oct. 9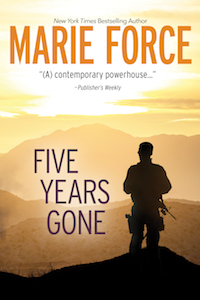 The most brazen terrorist attack in history. A country bent on revenge. A love affair cut short. A heart that never truly heals.
I knew on the day of the attack that our lives were changed forever. What I didn't know then was that I'd never see John again after he deployed. One day he was living with me, sleeping next to me, making plans with me. The next day he was gone.
That was five years ago. The world has moved on from that awful day, but I'm stuck in my own personal hell, waiting for a man who may be dead for all I know. At my sister's wedding, I meet Eric, the brother of the groom, and my heart comes alive once again.
The world is riveted by the capture of the terrorist mastermind, brought down by U.S. Special Forces in a daring raid. Now I am trapped between hoping I'll hear from John and fearing what'll become of my new life with Eric if I do.
From a New York Times bestselling author, Five Years Gone, a standalone contemporary, is an epic story of love, honor, duty, unbearable choices and impossible dilemmas. 
93,000 words/400 pages
Preorder now and read it on Oct. 9!
---
Sam and Nick Return in Fatal Invasion on Nov. 27
First the fire, then the heat…
A brutal home invasion. Two small traumatized survivors who may have witnessed the horror. Lieutenant Sam Holland has never worked a case quite like this one, in which her eye-witnesses are five-year-old twins. But when Sam steps up in a big way for them, she risks her heart as much as her career.
While Sam and her husband, Vice President Nick Cappuano, go to battle in more ways than one for her tiny witnesses, her colleague Sergeant Tommy "Gonzo" Gonzales battles his own demons. Months of unbearable grief and despair come to a head in an unimaginable way that threatens Gonzo's status with the department and his relationship with his fiancée, Christina.
With trouble both at the precinct and on the case, Sam struggles to keep her priorities straight at home and at work while trying not to lose her heart to her latest crime victims. 
Preorder now and read it on Nov. 27!
---
Here Comes the Sun—Available Now!
A USA Today and Wall Street Journal Bestseller!
Wade Abbott is one and done—one look, one conversation, one weekend, and he knows who he wants. Except, Mia Simpson is not free to return his affection. In fact, he suspects she's in an abusive marriage, but she never confirms that, and he has no choice but to mind his own business where she's concerned. Two hears after they first met and a year after he last heard from her, Mia shows up half-frozen, bruised and beaten on his doorstep, needing something only Wade can provide. 
Mia has never forgotten the kind, gentle, sexy guy who made her heart sing from the first time she met him. She only cut off contact with him because she feared for his safety—and hers—and takes the first opportunity she gets to make a run for what she really wants—Wade. But nothing is ever as simple as happily ever after. With issues from her past still haunting them, and Wade's family questioning the motives of a woman they've never met, Wade and Mia will have to fight for their happy ending. 
Wade Abbott's long-awaited story is finally here, along with an update on the Abbott and Coleman clan as well as Fred the moose!
Nothing in the world can take the place of persistence. Talent will not; nothing is more common than unsuccessful men with talent. Genius will not; unrewarded genius is almost a proverb. Education will not; the world is full of educated derelicts. Persistence and determination alone are omnipotent.

~ Calvin Coolidge

---