Available now!
Click on the cover to order!
Available now.
Click on the cover to order!
Available now.
Click on the cover to order!
---
---
Preorder Here Comes the Sun—Out on Jan. 23
Wade Abbott is one and done—one look, one conversation, one weekend, and he knows who he wants. Except, Mia Simpson is not free to return his affection. In fact, he suspects she's in an abusive marriage, but she never confirms that, and he has no choice but to mind his own business where she's concerned. Two hears after they first met and a year after he last heard from her, Mia shows up half-frozen, bruised and beaten on his doorstep, needing something only Wade can provide. 
Mia has never forgotten the kind, gentle, sexy guy who made her heart sing from the first time she met him. She only cut off contact with him because she feared for his safety—and hers—and takes the first opportunity she gets to make a run for what she really wants—Wade. But nothing is ever as simple as happily ever after. With issues from her past still haunting them, and Wade's family questioning the motives of a woman they've never met, Wade and Mia will have to fight for their happy ending. 
Wade Abbott's long-awaited story is finally here, along with an update on the Abbott and Coleman clan as well as Fred the moose!
---
Preorder Fatal Chaos Now—Out on Feb. 27
First the calm. Then the storm…
Escaping D.C. during the dog days of summer is one of the smartest moves Washington Metro Police Lieutenant Samantha Holland ever made. Beach walks aren't quite as romantic with the Secret Service in tow, but Sam and her husband, Vice President Nick Cappuano, cherish the chance to recharge and reconnect—especially with a scandal swirling around the administration.
No sooner are they back home than a fatal drive-by shooting sets the city on edge. The teenage victim is barely older than Sam and Nick's son, Scotty. As more deaths follow, Sam and her team play beat the clock to stop the ruthless killers. With Nick facing his greatest challenge—one that could drastically change all their lives and even end Sam's career—will the mounting pressure deepen or damage their bond?
---
A Gansett Island Christmas Novella Available Now!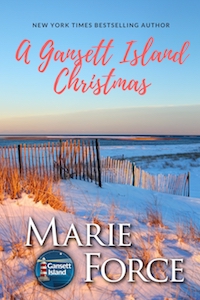 It's Christmas on Gansett Island, but a blizzard is ruining everyone's plans… Until Ned gets a big idea that might save the day for the McCarthys and their family. Take the ferry to Gansett Island and spend Christmas Day with Big Mac, Linda and the entire McCarthy family.
Ebook:
Print readers and audio listeners—this novella will be included in the back of the next full-length Gansett Island novel, coming in 2018.
---
Gansett Island Series Episode 2: Kevin & Chelsea—Available Now
A year after his 31-year marriage imploded, Dr. Kevin McCarthy is enjoying life on Gansett Island. He's opened a small practice, goes fishing with his older brothers any time he wants and has his sons, nieces and nephews close by. Best of all is his all-consuming relationship with sexy bartender, Chelsea Rose. What started as a one-night stand a year ago, has turned into something much more significant for Kevin and for Chelsea. The sixteen-year age difference between them has never mattered, until they realize they may have differing plans for the future. Will they be able to reconcile their divergent paths or will their hearts be broken when they go their separate ways? Find out in Gansett Island Episode 2: Kevin & Chelsea where you'll also hear about Big Mac's latest business venture and have a visit with the Gansett Island characters you've come to love!
---
Gansett Island Series Paperback Print Deal with Kensington Publishing
Publisher's Weekly made the official announcement that Marie has sold the first six Gansett Island books in mass market paperback to Kensington Publishing for release in stores in 2018. Marie is really excited to bring Gansett to bookstores and paperback readers! This will be the first time the Gansett Series has been in mass distribution paperback format. Read the full announcement from Kensington Publishing. 
From Publisher's Weekly: 
Kensington Publishing CEO Steve Zacharius bought mass market rights to the first six books in romance author Marie Force's Gansett Island series. All six books were previously self-published by the author in digital format. According to Kensington, the series is set on a fictional version of Block Island, in Rhode Island, and tells of the "lives and loves of the McCarthy family and their friends." The publisher adds that Force's books have sold more than 5.5 million units worldwide. The mass market paperbacks are set to begin to be released in summer 2018.
Nothing in the world can take the place of persistence. Talent will not; nothing is more common than unsuccessful men with talent. Genius will not; unrewarded genius is almost a proverb. Education will not; the world is full of educated derelicts. Persistence and determination alone are omnipotent.

~ Calvin Coolidge

---