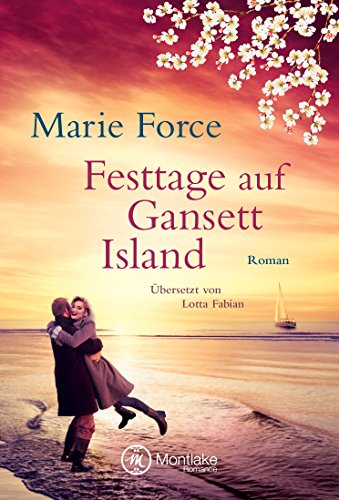 Festtage auf Gansett Island
(Die McCarthys 14)
Big Mac & Linda
Ein wunderbar romantischer Roman um die beliebten Charaktere der Gansett-Island-Reihe von #1 BILD-Bestsellerautorin Marie Force.
Mac ist ein Mann, der weiß, was er will. Als er mit gerade mal zwanzig Jahren Linda kennenlernt, ist es Liebe auf den ersten Blick – er kauft die heruntergekommene Marina auf Gansett Island und bittet Linda, seine Frau zu werden. Heute ist ihr vierzigster Hochzeitstag. Mac und Linda sind immer noch so glücklich miteinander wie am ersten Tag und blicken mit ihren fünf Kindern auf ein bewegtes Familienleben zurück.
Spontan beschließen ihr Sohn Adam und seine Abby, sich schon in wenigen Tagen das Jawort zu geben. Dabei muss das junge Paar mit einer schwierigen Diagnose umgehen, die die ganze Lebensplanung der beiden infrage stellt. Während das Wetter immer schlechter wird und keiner weiß, ob die Fähre die fehlenden Familienmitglieder rechtzeitig nach Hause bringen kann, steht Abby vor einer schwerwiegenden Entscheidung …
Aufregendes Kurzformat: ca. 150 Seiten prickelnde Romantik.
Marie Force/HTJB, Inc. is a participant in the Amazon Services LLC Associates Program, an affiliate advertising program designed to provide a means for sites to earn advertising fees by advertising and linking to amazon.com.
Nothing in the world can take the place of persistence. Talent will not; nothing is more common than unsuccessful men with talent. Genius will not; unrewarded genius is almost a proverb. Education will not; the world is full of educated derelicts. Persistence and determination alone are omnipotent. 
~ Calvin Coolidge
© Marie Force/HTJB, Inc. Privacy Policy. 
Marie Force, Gansett Island, A First Family Novel, A Wild Widows Novel, A Miami Nights Novel, A Green Mountain Romance, Quantum Series, Fatal Series  and Butler, VT are registered trademarks with the United States Patent & Trademark Office.