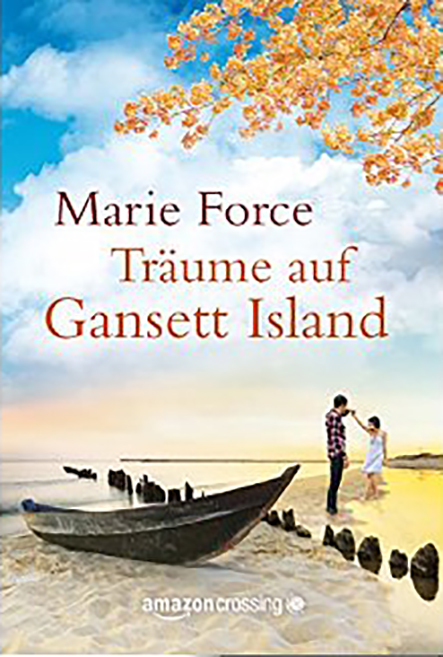 Traume auf Gansett Island
(Die McCarthys 5)
Grace & Evan
Ihr ganzes Leben war Grace Ryan die »Dicke«. Verspottet und von ihren Kollegen ignoriert, hat sie jede Diät ausprobiert, die jemals erfunden wurde. Ohne Erfolg. Nach einer Magenband-OP jetzt fast sechzig Kilo leichter, lässt sie sich zum ersten Mal auf ein Date ein – mit ihrem alten Highschool-Schwarm. Während einer Bootsfahrt nach Gansett Island weigert sich Grace jedoch, Sex mit ihm zu haben, und wird dafür ohne einen Dollar auf der Insel zurückgelassen.
Der aufsteigende Country-Star Evan McCarthy ist für den Sommer zu Hause, um auf die Veröffentlichung seiner Debüt-CD zu warten. Bei einem Auftritt in der Tiki-Bar bemerkt er die verzweifelt wirkende Grace. Er kommt ihr zu Hilfe und verliebt sich sofort. Aber das Letzte, was Grace nach all dem jetzt gebrauchen kann, ist ein Mann, der »von Beziehungen nicht viel hält«. Wird Evan bereit sein, sich zu ändern, um Graces Herz zu gewinnen?
Marie Force/HTJB, Inc. is a participant in the Amazon Services LLC Associates Program, an affiliate advertising program designed to provide a means for sites to earn advertising fees by advertising and linking to amazon.com.
Nothing in the world can take the place of persistence. Talent will not; nothing is more common than unsuccessful men with talent. Genius will not; unrewarded genius is almost a proverb. Education will not; the world is full of educated derelicts. Persistence and determination alone are omnipotent. 
~ Calvin Coolidge
© Marie Force/HTJB, Inc. Privacy Policy. 
Marie Force, Gansett Island, A First Family Novel, A Wild Widows Novel, A Miami Nights Novel, A Green Mountain Romance, Quantum Series, Fatal Series  and Butler, VT are registered trademarks with the United States Patent & Trademark Office.