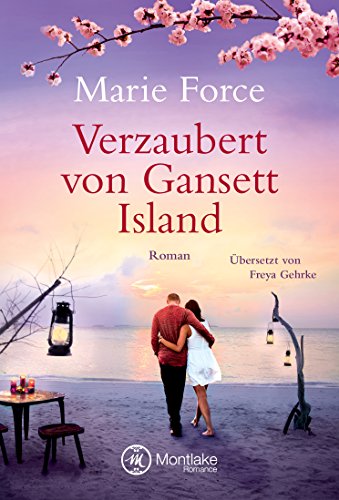 Verzaubert von Gansett Island
(Die McCarthys 16)
Mallory & Quinn
Ein traumhaft schöner Roman um die beliebten Charaktere der Gansett-Island-Reihe von #1 BILD-Bestsellerautorin Marie Force.
Seit Mallory Vaughn erfahren hat, dass Mac McCarthy ihr Vater ist, verbringt sie häufig Zeit auf Gansett Island, inmitten der großen, lebhaften McCarthy-Familie. Als ihr überraschend die Arbeitsstelle in Providence gekündigt wird, fährt sie wieder auf die Insel, um zu entscheiden, wie es mit ihrem Leben weitergehen soll.
Auf Gansett Island erhält Mallory unerwartet ein neues Jobangebot, woraufhin sie sich kurz entschlossen dafür entscheidet, für ein paar Wochen ‒ wenn nicht sogar länger ‒ auf der Insel zu bleiben. Sie beschließt, sich diesen Sommer Zeit für sich selbst zu nehmen und etwas zu erleben.
Dieser Wunsch geht prompt in Erfüllung, als ihr der geheimnisvolle Quinn über den Weg läuft und ihr Herz im Sturm erobert. Doch kann ihre gegenseitige Zuneigung zu einer dauerhaften Liebe werden?
Marie Force/HTJB, Inc. is a participant in the Amazon Services LLC Associates Program, an affiliate advertising program designed to provide a means for sites to earn advertising fees by advertising and linking to amazon.com.
Nothing in the world can take the place of persistence. Talent will not; nothing is more common than unsuccessful men with talent. Genius will not; unrewarded genius is almost a proverb. Education will not; the world is full of educated derelicts. Persistence and determination alone are omnipotent. 
~ Calvin Coolidge
© Marie Force/HTJB, Inc. Privacy Policy. 
Marie Force, Gansett Island, A First Family Novel, A Wild Widows Novel, A Miami Nights Novel, A Green Mountain Romance, Quantum Series, Fatal Series  and Butler, VT are registered trademarks with the United States Patent & Trademark Office.