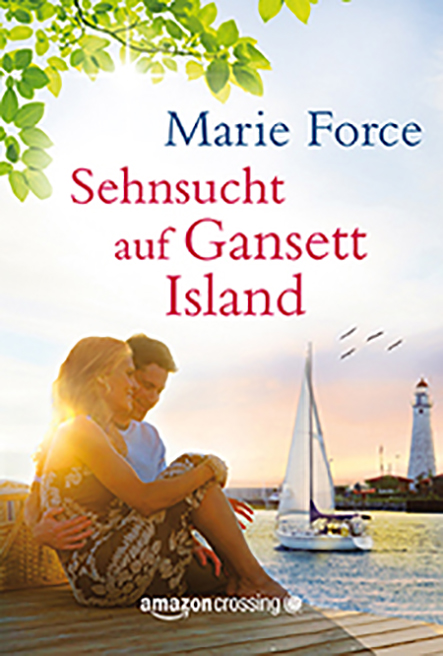 Sehnsucht auf Gansett Island 
(Die McCarthys 2)
Joe & Janey
Joe Cantrell, der Besitzer der Gansett Island Fährgesellschaft, ist, seit er denken kann, in Janey McCarthy verliebt. Aber Janey war entweder anderweitig vergeben oder verlobt mit dem angehenden Arzt David Lawrence. Als die Beziehung von David und Janey in die Brüche geht, wendet sie sich an ihren »fünften Bruder« Joe, einen der wenigen Menschen in ihrem engsten Freundeskreis, der auf dem Festland lebt. Janey beschließt, dass ein paar Tage mit Joe genau das sind, was sie braucht, bevor sie zur Insel zurückkehrt, um ihrer Familie die Nachricht ihrer gescheiterten Verlobung zu überbringen. Es war schlimm genug für Joe, Janey aus der Ferne zu lieben, aber sie in seinem Haus zu haben ist reinste Folter. Wird er die Gelegenheit ergreifen und ihr beweisen, was zwischen ihnen sein könnte? Und was wird Joes bester Freund, Janeys älterer Bruder Mac, dazu sagen?
Übersetzt von Christina Rodriguez
Marie Force/HTJB, Inc. is a participant in the Amazon Services LLC Associates Program, an affiliate advertising program designed to provide a means for sites to earn advertising fees by advertising and linking to amazon.com.
Nothing in the world can take the place of persistence. Talent will not; nothing is more common than unsuccessful men with talent. Genius will not; unrewarded genius is almost a proverb. Education will not; the world is full of educated derelicts. Persistence and determination alone are omnipotent. 
~ Calvin Coolidge
© Marie Force/HTJB, Inc. Privacy Policy. 
Marie Force, Gansett Island, A First Family Novel, A Wild Widows Novel, A Miami Nights Novel, A Green Mountain Romance, Quantum Series, Fatal Series  and Butler, VT are registered trademarks with the United States Patent & Trademark Office.