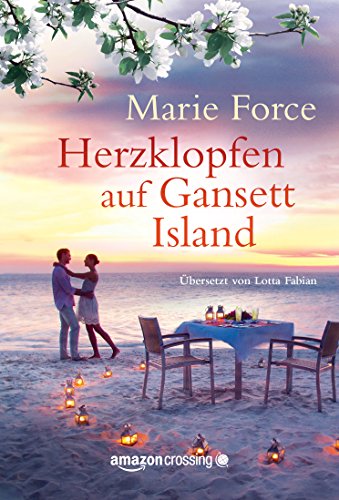 Herzklopfen auf Gansett Island
(Die McCarthys 7)
Tiffany & Blaine
Als Tiffany Sturgil auf Gansett Island eine Boutique für Dessous und Erotikspielzeug eröffnet, weiß sie, dass das unter den Inselbewohnern für einiges Aufsehen sorgen wird. Ganz und gar nicht vorbereitet ist sie allerdings auf den attraktiven Polizeichef Blaine Taylor, der auf der Insel für Recht und Ordnung sorgt.
Blaine seinerseits, der nach schlechten Erfahrungen mit der Liebe eigentlich nur noch an unverbindlichem Sex interessiert ist, kann nicht verhindern, dass ihm die verführerische Geschäftsfrau unter die Haut geht, auch wenn sie es mit dem Gesetz nicht so genau nimmt. Schon bald wünscht er sich, dass aus ihrer heißen Affäre mehr wird. Doch obwohl Tiffany die gemeinsamen erotischen Abenteuer genießt, ist die alleinerziehende Mutter nicht sicher, ob sie so kurz nach ihrer Scheidung schon bereit ist für eine neue Beziehung …
Neben der prickelnden Liebesgeschichte zwischen Blaine und Tiffany gibt es in »Herzklopfen auf Gansett Island« auch ein Wiedersehen mit all den Bewohnern der Insel, die den Lesern in den vorausgegangenen Romanen ans Herz gewachsen sind.
Marie Force/HTJB, Inc. is a participant in the Amazon Services LLC Associates Program, an affiliate advertising program designed to provide a means for sites to earn advertising fees by advertising and linking to amazon.com.
Nothing in the world can take the place of persistence. Talent will not; nothing is more common than unsuccessful men with talent. Genius will not; unrewarded genius is almost a proverb. Education will not; the world is full of educated derelicts. Persistence and determination alone are omnipotent. 
~ Calvin Coolidge
© Marie Force/HTJB, Inc. Privacy Policy. 
Marie Force, Gansett Island, A First Family Novel, A Wild Widows Novel, A Miami Nights Novel, A Green Mountain Romance, Quantum Series, Fatal Series  and Butler, VT are registered trademarks with the United States Patent & Trademark Office.