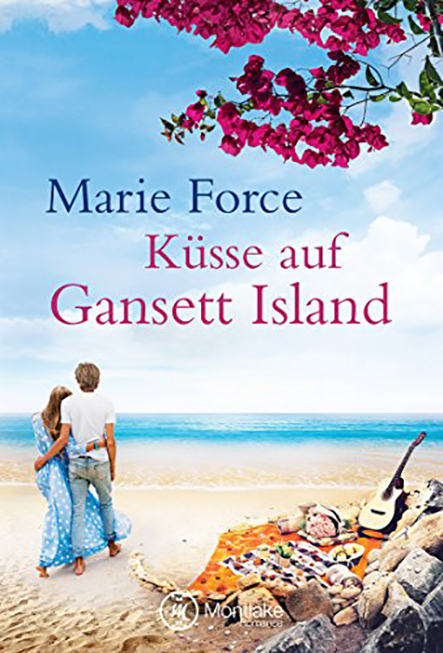 Kusse auf Gansett Island
(Die McCarthys 6)
Owen & Laura
Owen Lawrys Definition von »dauerhaft« passt in den VW-Bus, der ihn von einem Gig zum nächsten bringt. Er verdient sein Geld als tourender Singer-Songwriter und genießt seinen Lebensstil als Single ohne Verpflichtungen in vollen Zügen. Aber als er Laura McCarthy kennenlernt und sie mit seiner Hilfe einen Job als Managerin des Hotels seiner Großeltern auf Gansett Island bekommt, erkennt er, dass auch ein Dach über dem Kopf und eine schöne Frau in seinem Bett durchaus etwas für sich haben.
Laura, die feststellen musste, dass ihr frischgebackener Ehemann Justin sich weiter mit anderen Frauen trifft, war eigentlich nur zur Hochzeit ihrer Cousine Janey nach Gansett Island gekommen. Nachdem sie aber Owen kennengelernt und die Aufsicht über Renovierungsarbeiten im »Sand & Surf Hotel« übernommen hat, beschließt sie zu bleiben. Während es langsam Herbst wird, entwickelt sich aus Lauras und Owens Freundschaft eine tiefe Liebe. Diese wird allerdings auf die Probe gestellt, als Lauras Ehemann sich weigert, in die Scheidung einzuwilligen.
Marie Force/HTJB, Inc. is a participant in the Amazon Services LLC Associates Program, an affiliate advertising program designed to provide a means for sites to earn advertising fees by advertising and linking to amazon.com.
Nothing in the world can take the place of persistence. Talent will not; nothing is more common than unsuccessful men with talent. Genius will not; unrewarded genius is almost a proverb. Education will not; the world is full of educated derelicts. Persistence and determination alone are omnipotent. 
~ Calvin Coolidge
© Marie Force/HTJB, Inc. Privacy Policy. 
Marie Force, Gansett Island, A First Family Novel, A Wild Widows Novel, A Miami Nights Novel, A Green Mountain Romance, Quantum Series, Fatal Series  and Butler, VT are registered trademarks with the United States Patent & Trademark Office.