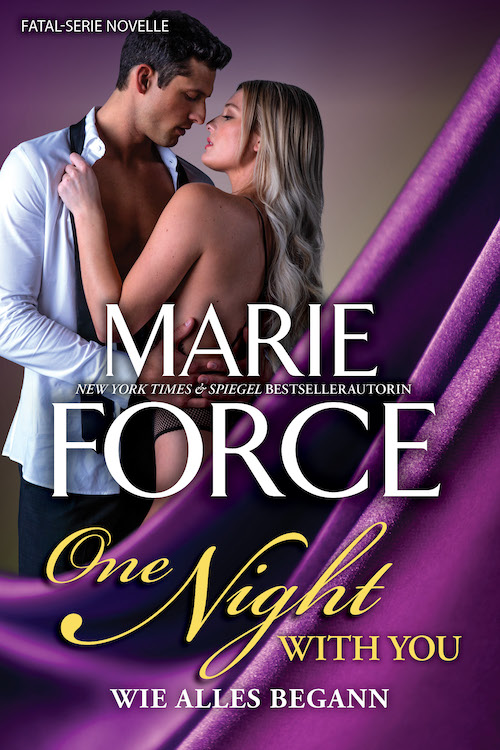 One Night With You – Wie alles begann
(Fatal-Serie Novelle)
Die spannende Vorgeschichte zur Fatal Serie von New York Times- und Spiegel-Bestsellerautorin Marie Force
Zwei Seelen, die sich finden. Zwei Körper, die sich vereinen.
Wie kam es zu diesem unvergesslichen One-Night-Stand zwischen Sam Holland und Nick Cappuano, von dem sechs Jahre später in Fatal Affair zu lesen ist? Was ist passiert, als Sam und Nick das erste Mal aufeinander trafen – und ihre erste gemeinsame Nacht miteinander verbrachten? One Night with You erzählt die Geschichte ihrer ersten schicksalhaften Begegnung und dem leidenschaftlichen Feuer, das vom ersten Moment an zwischen ihnen aufloderte und seither nie verebbte. Einer Geschichte über die Verbundenheit zweier Menschen, die sich zuvor fremd waren. One Night with You verrät alle Details, alle prickelnden, heißen und romantischen Details. Und erzählt vor allem von einem: Einer Liebe, die nicht nur zwei Körper eint, sondern auch ihre Seelen.
Buchen Sie in Fatal Affair.
Marie Force/HTJB, Inc. is a participant in the Amazon Services LLC Associates Program, an affiliate advertising program designed to provide a means for sites to earn advertising fees by advertising and linking to amazon.com.
Nothing in the world can take the place of persistence. Talent will not; nothing is more common than unsuccessful men with talent. Genius will not; unrewarded genius is almost a proverb. Education will not; the world is full of educated derelicts. Persistence and determination alone are omnipotent. 
~ Calvin Coolidge
© Marie Force/HTJB, Inc. Privacy Policy. 
Marie Force, Gansett Island, A First Family Novel, A Wild Widows Novel, A Miami Nights Novel, A Green Mountain Romance, Quantum Series, Fatal Series  and Butler, VT are registered trademarks with the United States Patent & Trademark Office.