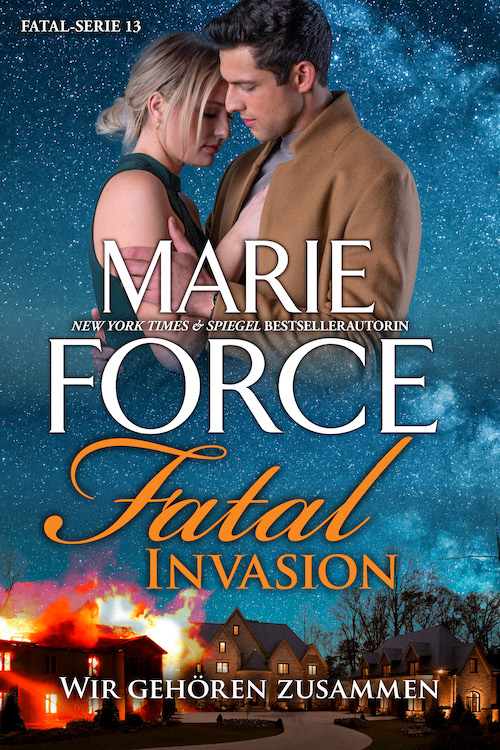 Fatal Invasion – Wir gehören zusammen
(Fatal Serie 13)
Der bestialische Mord an einem Ehepaar erschüttert die Nachbarschaft in einem von Washingtons exklusivsten Wohnvierteln. Die einzigen Augenzeugen sind die Kinder der Opfer, fünfjährige Zwillinge. Selbst für Lieutenant Sam Hollands Verhältnisse ist das ein ungewöhnlicher Fall – und als sie die beiden Waisen kurzerhand mit zu sich nach Hause nimmt, riskiert sie nicht nur ihre Karriere, sondern auch ihr Herz.
Während Sam und ihr Mann, Vizepräsident Nick Cappuano, sich für die kleinen Zeugen einsetzen, kämpft ihr Kollege Sergeant Tommy "Gonzo" Gonzales mit seinen eigenen Dämonen. Seine nicht enden wollende Trauer und Verzweiflung über den Tod seines Partners spitzen sich auf unvorstellbare Weise zu und bedrohen Gonzos Stellung in der Abteilung ebenso wie die Beziehung zu seiner Verlobten Christina.
Wieder einmal hat Sam alle Hände voll zu tun, ihre Freunde zu schützen und die brutalen Täter dingfest zu machen …
Marie Force/HTJB, Inc. is a participant in the Amazon Services LLC Associates Program, an affiliate advertising program designed to provide a means for sites to earn advertising fees by advertising and linking to amazon.com.
Nothing in the world can take the place of persistence. Talent will not; nothing is more common than unsuccessful men with talent. Genius will not; unrewarded genius is almost a proverb. Education will not; the world is full of educated derelicts. Persistence and determination alone are omnipotent. 
~ Calvin Coolidge
© Marie Force/HTJB, Inc. Privacy Policy. 
Marie Force, Gansett Island, A First Family Novel, A Wild Widows Novel, A Miami Nights Novel, A Green Mountain Romance, Quantum Series, Fatal Series  and Butler, VT are registered trademarks with the United States Patent & Trademark Office.