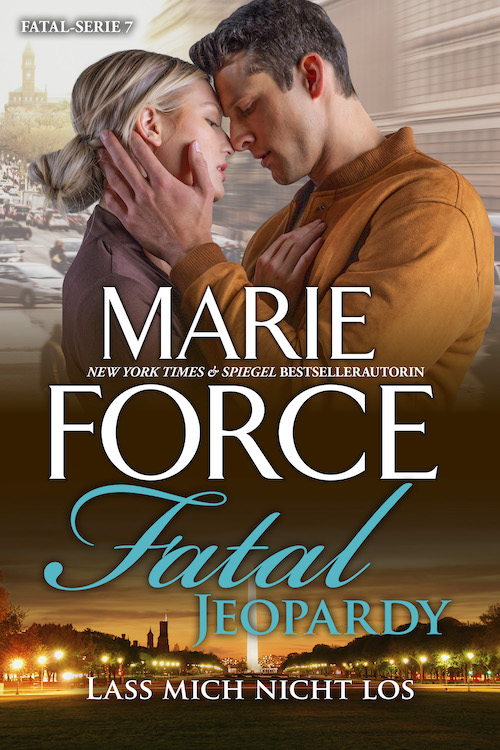 Fatal Jeopardy – Lass mich nicht los
(Fatal Serie 7)
Sam Holland, Lieutenant bei der Polizei in Washington D.C., und ihr Ehemann US-Senator Nick Cappuano hatten sich eigentlich auf ein ruhiges Thanksgiving-Fest mit ihrem Sohn gefreut. Doch alle Hoffnungen auf einen schönen Feiertag im Kreise ihrer Familie zerplatzen jäh, als Sam und Nick bei ihrer Rückkehr nach Hause Sams siebzehnjährige Nichte Brooke bewusstlos, nackt in ein Laken gewickelt und blutverschmiert auf den Eingangsstufen ihres Hauses vorfinden.
Während Sam noch damit beschäftigt ist, herauszufinden, was ihrer Nichte zugestoßen ist, wird die Polizei zum Schauplatz eines schrecklichen Verbrechens gerufen. Nachdem klar wird, dass in diesem emotional aufgeladenen, zutiefst persönlichen Fall die Grenzen zwischen Privatem und Beruf verschwimmen, ist Sam mehr denn je auf Nicks Unterstützung angewiesen. Als er aber ihre Vorgehensweise – und ihre Moral – infrage stellt, muss Sam entscheiden, wie weit sie gehen will, um zu beweisen, dass Brooke in diesem Fall nicht die Mörderin, sondern das Opfer ist …
Marie Force/HTJB, Inc. is a participant in the Amazon Services LLC Associates Program, an affiliate advertising program designed to provide a means for sites to earn advertising fees by advertising and linking to amazon.com.
Nothing in the world can take the place of persistence. Talent will not; nothing is more common than unsuccessful men with talent. Genius will not; unrewarded genius is almost a proverb. Education will not; the world is full of educated derelicts. Persistence and determination alone are omnipotent. 
~ Calvin Coolidge
© Marie Force/HTJB, Inc. Privacy Policy. 
Marie Force, Gansett Island, A First Family Novel, A Wild Widows Novel, A Miami Nights Novel, A Green Mountain Romance, Quantum Series, Fatal Series  and Butler, VT are registered trademarks with the United States Patent & Trademark Office.