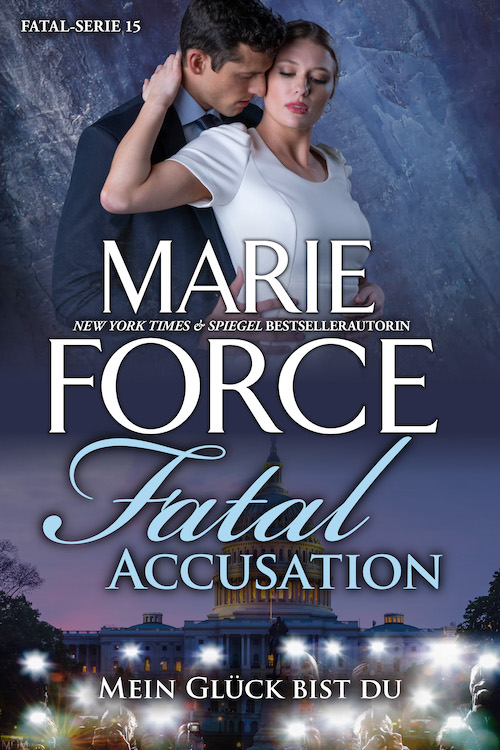 Fatal Accusation – Mein Glück bist du 
(Fatal Serie 15)
Kaum hat sich die Aufregung nach dem jüngsten Skandal im Weißen Haus gelegt, steht schon der nächste vor der Tür – und dieser hat die Sprengkraft, den Präsidenten endgültig sein Amt zu kosten: Er soll mit der Wahlkampfmitarbeiterin Tara Weber eine Affäre gehabt haben, und das ausgerechnet, während sich die allseits beliebte First Lady einer Krebsbehandlung unterziehen musste.
Während die Forderungen immer lauter werden, dass der Präsident seinen Rücktritt erklärt und Sams geliebter Ehemann Vizepräsident Nick Cappuano an seine Stelle tritt, wird Sam zu einem Mordfall gerufen. Am Tatort muss sie zu ihrem Entsetzen feststellen, dass das Opfer keine andere ist als Tara Weber, die Ex-Geliebte des Präsidenten. Mit einem Mal geht es für Sam nicht mehr nur darum, einen Mörder zu ermitteln und der Gerechtigkeit zum Sieg zu verhelfen, sondern es gilt außerdem zu verhindern, dass sie und ihre Familie ins Weiße Haus umziehen müssen …
Marie Force/HTJB, Inc. is a participant in the Amazon Services LLC Associates Program, an affiliate advertising program designed to provide a means for sites to earn advertising fees by advertising and linking to amazon.com.
Nothing in the world can take the place of persistence. Talent will not; nothing is more common than unsuccessful men with talent. Genius will not; unrewarded genius is almost a proverb. Education will not; the world is full of educated derelicts. Persistence and determination alone are omnipotent. 
~ Calvin Coolidge
© Marie Force/HTJB, Inc. Privacy Policy. 
Marie Force, Gansett Island, A First Family Novel, A Wild Widows Novel, A Miami Nights Novel, A Green Mountain Romance, Quantum Series, Fatal Series  and Butler, VT are registered trademarks with the United States Patent & Trademark Office.