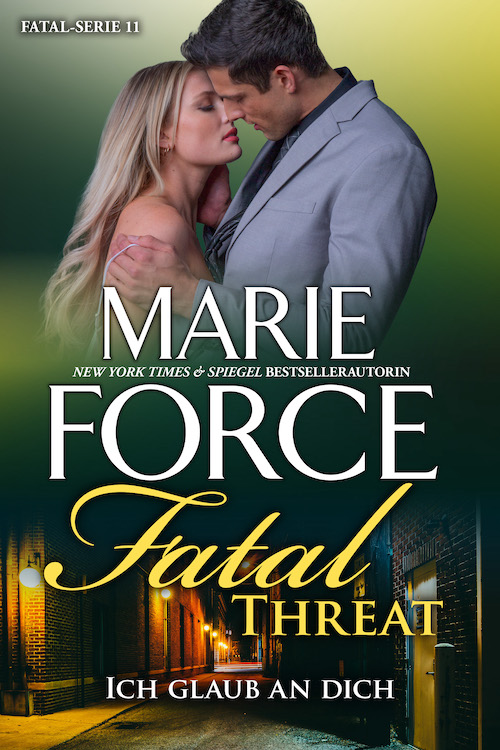 Fatal Threat – Ich glaub an dich
(Fatal Serie 11)
Als der Secret Service sie einfach vom Tatort ihres neuesten Falls wegschafft, weiß Lieutenant Sam Holland, dass sie keinen gewöhnlichen Arbeitstag vor sich hat. Offenbar ist im Weißen Haus eine ernst zu nehmende Drohung gegen ihre Familie eingegangen, und Sam wird sich von niemandem – nicht mal ihrem Ehemann, dem Vizepräsidenten Nick Cappuano – verbieten lassen, persönlich bei den Ermittlungen mitzuwirken.
Schnell führen die Spuren in ihre eigene Vergangenheit, doch auch Nick sieht sich unvermutet Angriffen auf seine Integrität ausgesetzt. Je weiter Sam der Sache nachgeht, desto klarer wird: Die scheinbar zusammenhanglosen Geschehnisse haben direkt miteinander zu tun, und schließlich macht sich in Sam ein unglaublicher Verdacht breit …
Marie Force/HTJB, Inc. is a participant in the Amazon Services LLC Associates Program, an affiliate advertising program designed to provide a means for sites to earn advertising fees by advertising and linking to amazon.com.
Nothing in the world can take the place of persistence. Talent will not; nothing is more common than unsuccessful men with talent. Genius will not; unrewarded genius is almost a proverb. Education will not; the world is full of educated derelicts. Persistence and determination alone are omnipotent. 
~ Calvin Coolidge
© Marie Force/HTJB, Inc. Privacy Policy. 
Marie Force, Gansett Island, A First Family Novel, A Wild Widows Novel, A Miami Nights Novel, A Green Mountain Romance, Quantum Series, Fatal Series  and Butler, VT are registered trademarks with the United States Patent & Trademark Office.