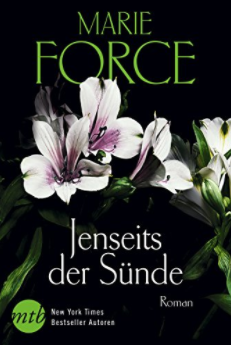 Jenseits der Sünde 
(Fatal-Serie 3)
Frisch verlobt mit Nick Cappuano tritt Samantha den Dienst wieder an. Das erste Verbrechen lässt nicht lange auf sich warten. Eine junge Frau, die als Reinigungskraft im Capitol gearbeitet hat, wurde ermordet. Neben der Leichte steht völlig aufgelöst Senator Henry Lightfeather, ein guter Freund von Nick. Der verheiratet Politiker hatte eine Affäre mit dem Opfer und ist der Hauptverdächtige. Samanthas brisante Ermittlungen sorgen nicht nur für Spannungen mit Nick, sie stören auch höchste Regierungskreise. 
"Force setzt neue Maßstäbe — und erschafft einen packenden romantischen Thriller."
Romantic Times Book Reviews
Nothing in the world can take the place of persistence. Talent will not; nothing is more common than unsuccessful men with talent. Genius will not; unrewarded genius is almost a proverb. Education will not; the world is full of educated derelicts. Persistence and determination alone are omnipotent. 
~ Calvin Coolidge
© Marie Force/HTJB, Inc. Privacy Policy. 
Marie Force, Gansett Island, Quantum Series and Fatal Series are registered trademarks with the United States Patent & Trademark Office.