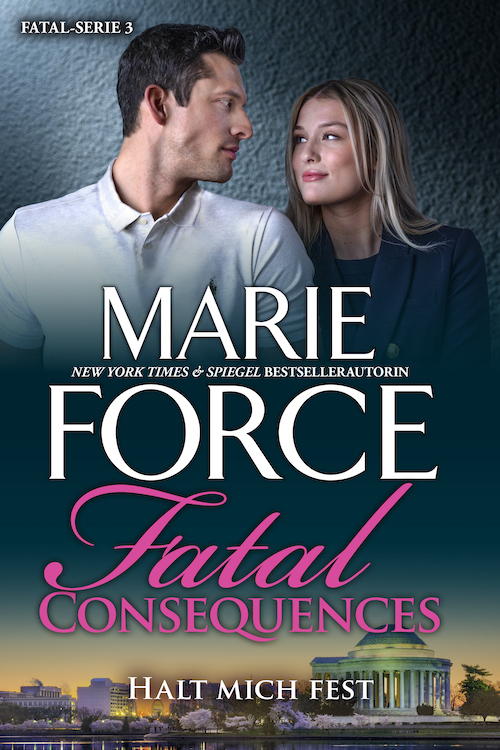 Fatal Consequences – Halt mich fest

(Fatal Serie 3)
Wahrheit und Lüge liegen manchmal nah beieinander…
Frisch verlobt mit Nick Cappuano tritt Samantha den Dienst wieder an. Das erste Verbrechen lässt nicht lange auf sich warten. Eine junge Frau, die als Reinigungskraft im Capitol gearbeitet hat, wurde ermordet. Neben der Leiche steht völlig aufgelöst Senator Henry Lightfeather, ein guter Freund von Nick. Der verheiratete Politiker hatte eine Affäre mit dem Opfer und ist der Hauptverdächtige. Samanthas brisante Ermittlungen sorgen nicht nur für Spannungen mit Nick, sie stören auch höchste Regierungskreise.
Band 3 der Fatal Serie von New York Times-, USA Today- und Wall Street Journal-Bestsellerautorin Marie Force
Alle Bände sind in sich geschlossen und können in beliebiger Reihenfolge gelesen werden. 
Zuvor veröffentlicht unter dem Titel "Jenseits der Sünde".
Marie Force/HTJB, Inc. is a participant in the Amazon Services LLC Associates Program, an affiliate advertising program designed to provide a means for sites to earn advertising fees by advertising and linking to amazon.com.
Nothing in the world can take the place of persistence. Talent will not; nothing is more common than unsuccessful men with talent. Genius will not; unrewarded genius is almost a proverb. Education will not; the world is full of educated derelicts. Persistence and determination alone are omnipotent. 
~ Calvin Coolidge
© Marie Force/HTJB, Inc. Privacy Policy. 
Marie Force, Gansett Island, A First Family Novel, A Wild Widows Novel, A Miami Nights Novel, A Green Mountain Romance, Quantum Series, Fatal Series  and Butler, VT are registered trademarks with the United States Patent & Trademark Office.