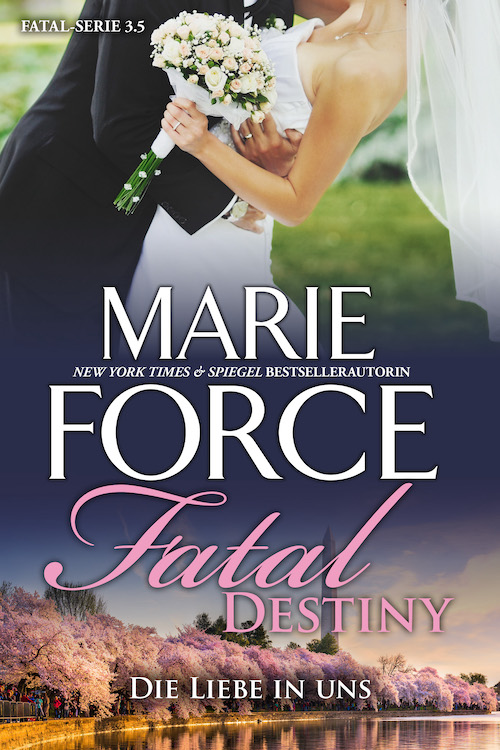 Fatal Destiny – Die Liebe in uns
(Fatal Serie 3.5)
Bist du bereit, alles zu riskieren?
Police Lieutenant Samantha Holland und ihr Verlobter, Senator Nick Cappuano, stehen kurz vor Ihrer Hochzeit – doch die Stimmung zwischen ihnen ist angespannt. Ein tragischer Verlust hat Spuren bei den Verliebten hinterlassen, die Zeichen stehen wahrlich alles andere als auf Liebe.  Angesichts des anstehenden großen Tages versuchen sie sich wieder zusammen zu raufen. Doch ihre Arbeit spaltet das Paar erneut.
Als ein neuer Hinweis auftaucht, bittet Nick Samantha inständig, vor der Hochzeit keine dummen Sachen mehr zu machen und den Fall ruhen zu lassen. Sie erklärt sich einverstanden, doch schon kurz darauf schwebt Samantha in großer Gefahr.
Ein unwillkommener Gast aus ihrer Vergangenheit bedroht ihr Glück – und ihr Leben. Wird sie überleben und ihrem Liebsten vor dem Altar das Ja-Wort geben?
Band 3.5 der Fatal Serie von New York Times-, USA Today- und Wall Street Journal-Bestsellerautorin Marie Force
Alle Bände sind in sich geschlossen und können in beliebiger Reihenfolge gelesen werden.
Zuvor veröffentlicht unter dem Titel "Versprechen bis in die Ewigkeit".
Marie Force/HTJB, Inc. is a participant in the Amazon Services LLC Associates Program, an affiliate advertising program designed to provide a means for sites to earn advertising fees by advertising and linking to amazon.com.
Nothing in the world can take the place of persistence. Talent will not; nothing is more common than unsuccessful men with talent. Genius will not; unrewarded genius is almost a proverb. Education will not; the world is full of educated derelicts. Persistence and determination alone are omnipotent. 
~ Calvin Coolidge
© Marie Force/HTJB, Inc. Privacy Policy. 
Marie Force, Gansett Island, A First Family Novel, A Wild Widows Novel, A Miami Nights Novel, A Green Mountain Romance, Quantum Series, Fatal Series  and Butler, VT are registered trademarks with the United States Patent & Trademark Office.