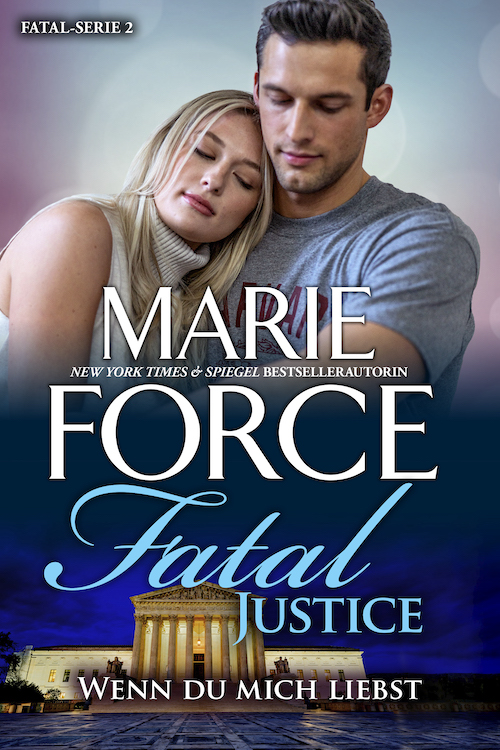 Fatal Justice – Wenn du mich liebst
(Fatal Serie 2)
Liebe und Politik sind eine fatale Mischung…
Eigentlich hat Samantha Holland das große Los gezogen: Gerade wurde sie zum Lieutenant befördert und ihre Beziehung mit dem attraktiven und charmanten Senator Nick Cappuano ist so prickelnd und leidenschaftlich wie am ersten Tag. Wären da nicht die Medien, die jeden einzelnen ihrer Schritte bewerten und kommentieren würden. Als sie zu einem neuen Tatort gerufen wird, bei dem ein Familienvater seine Frau erschossen und seine beiden Kinder brutal erschlagen hat, ahnt sie nicht, dass lang verborgene Geheimnisse drohen, ans Tageslicht zu kommen und ihre Beziehung mit Nick zu zerstören…
Band 2 der Fatal Serie von New York Times-, USA Today- und Wall Street Journal-Bestsellerautorin Marie Force
Alle Bände sind in sich geschlossen und können in beliebiger Reihenfolge gelesen werden.
Zuvor veröffentlicht unter dem Titel "Verhängnis der Begierde" und "D.C. Affairs: Fatales Gier".
Nothing in the world can take the place of persistence. Talent will not; nothing is more common than unsuccessful men with talent. Genius will not; unrewarded genius is almost a proverb. Education will not; the world is full of educated derelicts. Persistence and determination alone are omnipotent. 
~ Calvin Coolidge
© Marie Force/HTJB, Inc. Privacy Policy. 
Marie Force, Gansett Island, A Green Mountain Romance, Quantum Series and Fatal Series are registered trademarks with the United States Patent & Trademark Office.