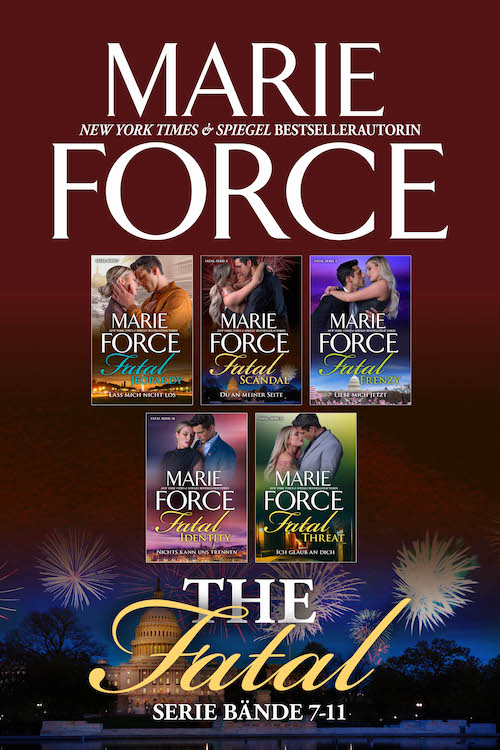 F

atal Serie Bände 7-11
Auch nach ihrer Hochzeit mit dem aufstrebenden Senator Nick Cappuano bleibt Lieutenant Samantha Holland ihrer eigentlichen Berufung in der Mordkommission bei der Polizei von Washington treu. Als wäre der tägliche Umgang mit den brutalsten Kriminellen nicht schon schlimm genug, sieht sich Sam immer wieder mit Fällen konfrontiert, die persönlicher nicht sein könnten. Sie betreffen ihre Freunde, ihre Familie und sogar sie selbst und den Mann, den sie mehr liebt, als sie sich je hätte vorstellen können.
Unbeirrt von politischen Intrigen, persönlichen Angriffen und gefährlichen Racheplänen widmet sich Sam unterstützt von ihrem loyalen Team der Aufklärung der grausamsten Verbrechen der Hauptstadt – und das alles unter der kritischen Beobachtung der sensationslüsternen Boulevardpresse, die nur auf den nächsten Skandal wartet … 
In der erfolgreichen Fatal-Serie entführt die New York Times-, USA-Today- und Wallstreet Journal-Bestsellerautorin Marie Force ihre Leser nach Washington in eine Welt, die gegensätzlicher nicht sein könnte, und deren Spannung, Drama und Liebe schon Millionen von Lesern in den USA begeistert hat.
Fatal Jeopardy – Lass mich nicht los (Fatal Serie 7)
Fatal Scandal – Du an meiner Seite (Fatal Serie 8)
Fatal Frenzy – Liebe mich jetzt (Fatal Serie 9)
Fatal Identity – Nichts kann uns trennen (Fatal Serie 10)
Fatal Threat – Ich glaub an dich (Fatal Serie 11)
Marie Force/HTJB, Inc. is a participant in the Amazon Services LLC Associates Program, an affiliate advertising program designed to provide a means for sites to earn advertising fees by advertising and linking to amazon.com.
Nothing in the world can take the place of persistence. Talent will not; nothing is more common than unsuccessful men with talent. Genius will not; unrewarded genius is almost a proverb. Education will not; the world is full of educated derelicts. Persistence and determination alone are omnipotent. 
~ Calvin Coolidge
© Marie Force/HTJB, Inc. Privacy Policy. 
Marie Force, Gansett Island, A First Family Novel, A Wild Widows Novel, A Miami Nights Novel, A Green Mountain Romance, Quantum Series, Fatal Series  and Butler, VT are registered trademarks with the United States Patent & Trademark Office.