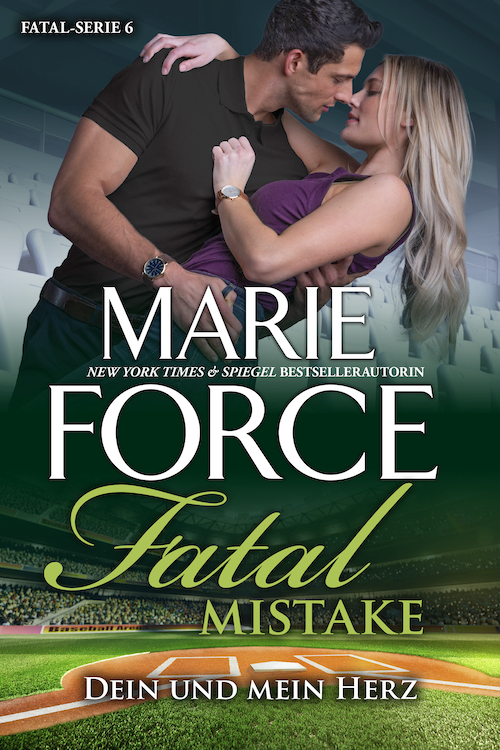 Fatal Mistake – Dein und mein Herz
(Fatal Serie 6)
Liebe und Glück sind zerbrechlich.
Samantha Holland und ihr Mann Nick sind das absolute Traumpaar. Mit der Adoption des kleinen Scotty wird ihr Glück perfekt. Als Sam und Nick im Baseballstadion die D.C. Federals anfeuern, verpasst einer der Spieler kurz vor Schluss den Ball – ein fataler Fehler, der seine Mannschaft den Sieg kostet. Wenige Stunden später wird seine Leiche in einem Müllcontainer entdeckt. Die Rache eines enttäuschten Fans? Zusammen mit dem FBI übernimmt Samantha den Fall und stößt auf ein mörderisches Netz aus Lügen und Intrigen. Und als wäre das nicht genug, gibt es jemanden, der den beiden Liebenden ihr Glück nicht gönnt und sie zu entzweien droht. Doch wieviel Stürmen kann eine Liebe trotzen?
Band 5 der Fatal Serie von New York Times-, USA Today- und Wall Street Journal-Bestsellerautorin Marie Force
Alle Bände sind in sich geschlossen und können in beliebiger Reihenfolge gelesen werden.
Zuvor veröffentlicht unter dem Titel "Unbarmherzig ist die Nacht".
Marie Force/HTJB, Inc. is a participant in the Amazon Services LLC Associates Program, an affiliate advertising program designed to provide a means for sites to earn advertising fees by advertising and linking to amazon.com.
Nothing in the world can take the place of persistence. Talent will not; nothing is more common than unsuccessful men with talent. Genius will not; unrewarded genius is almost a proverb. Education will not; the world is full of educated derelicts. Persistence and determination alone are omnipotent. 
~ Calvin Coolidge
© Marie Force/HTJB, Inc. Privacy Policy. 
Marie Force, Gansett Island, A First Family Novel, A Wild Widows Novel, A Miami Nights Novel, A Green Mountain Romance, Quantum Series, Fatal Series  and Butler, VT are registered trademarks with the United States Patent & Trademark Office.