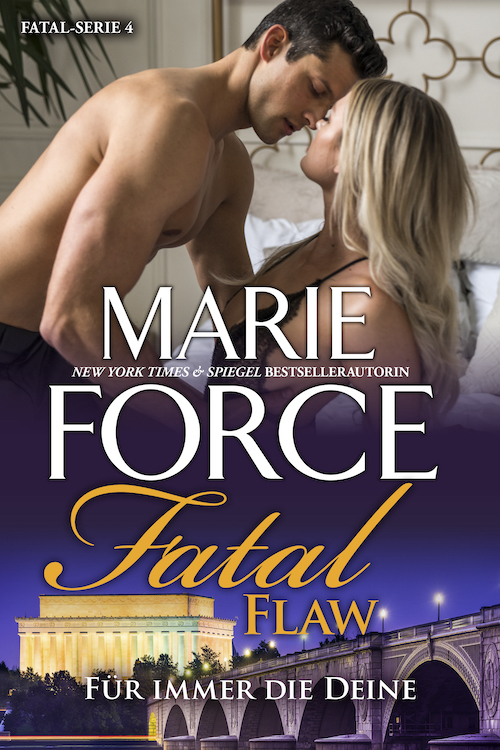 Fatal Flaw – Für immer die Deine
(Fatal Serie 4)
Beschütze was du liebst – egal wie viel Angst du hast.
Gerade aus ihren Flitterwochen zurückgekehrt, freuen sich Nick Cappuano und Lieutenant Sam Holland auf ein wenig Alltag und Erholung von ihrer turbulenten Hochzeit. Doch die Ruhe hält nicht lange an: Sam findet unter den Hochzeitsglückwünschen eine Karte mit einer Morddrohung – doch auf wen hat es der Verfasser abgesehen– ist Nick in Gefahr oder sie?
Als sie kurz darauf in einer Serie ungeklärter Mordfälle ermittelt und es keinerlei Motive für die schrecklichen Taten gibt, hat Sam nur noch zwei Ziele: Den Mörder zu finden und sich und Nick zu beschützen. Schließlich hatten sie es sich doch gerade erst geschworen, dass sie gemeinsam glücklich alt werden…
Band 4 der Fatal Serie von New York Times-, USA Today- und Wall Street Journal-Bestsellerautorin Marie Force
Alle Bände sind in sich geschlossen und können in beliebiger Reihenfolge gelesen werden.
Zuvor veröffentlicht unter dem Titel "Wenn die Rache erwacht".
Marie Force/HTJB, Inc. is a participant in the Amazon Services LLC Associates Program, an affiliate advertising program designed to provide a means for sites to earn advertising fees by advertising and linking to amazon.com.
Nothing in the world can take the place of persistence. Talent will not; nothing is more common than unsuccessful men with talent. Genius will not; unrewarded genius is almost a proverb. Education will not; the world is full of educated derelicts. Persistence and determination alone are omnipotent. 
~ Calvin Coolidge
© Marie Force/HTJB, Inc. Privacy Policy. 
Marie Force, Gansett Island, A First Family Novel, A Wild Widows Novel, A Miami Nights Novel, A Green Mountain Romance, Quantum Series, Fatal Series  and Butler, VT are registered trademarks with the United States Patent & Trademark Office.