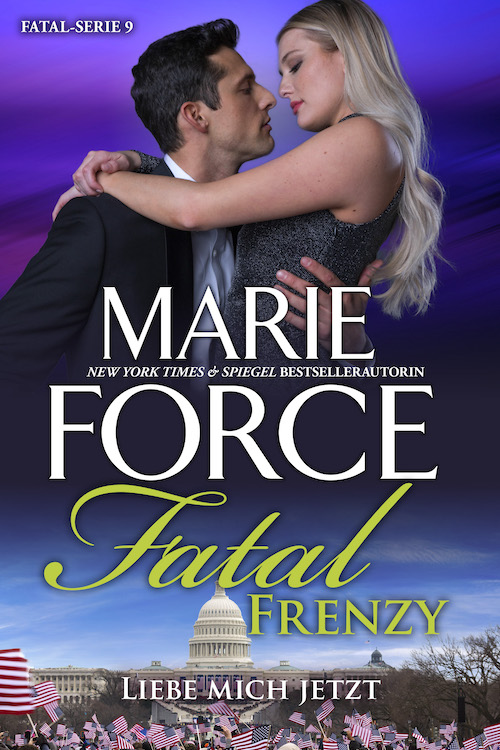 Fatal Frenzy – Liebe mich jetzt
(Fatal Serie 9)
Während der Tag der Amtseinführung ihres Mannes Vizepräsident Nick Cappuano seine Schatten vorauswirft, kämpft Mordermittlerin Sam Holland noch immer mit den Nachwirkungen ihrer traumatischen Entführung und ist von der Arbeit freigestellt. Beunruhigenderweise hat sie es anders als sonst nicht eilig, in den Job zurückzukehren. Auch in anderer Hinsicht gibt ihr Verhalten Anlass zur Sorge, vor allem als sie sich sogar freiwillig mit ihrem Mitarbeiterstab im Weißen Haus trifft.
Die Geiselnahme seiner Frau sowie der Mord an einem weiteren Beamten bescheren Nick Albträume, und er setzt alles daran, um seine Frau zu schützen. Doch während zur Amtseinführung immer mehr Besucher in die Hauptstadt strömen, treibt ein brutaler ein Messerstecher sein Unwesen. Als der Fall immer weitere Kreise zieht, ist es an Sam, sich ihren dunkelsten Ängsten zu stellen und ihre innere Stärke wiederzufinden … bevor es zu spät ist.
Marie Force/HTJB, Inc. is a participant in the Amazon Services LLC Associates Program, an affiliate advertising program designed to provide a means for sites to earn advertising fees by advertising and linking to amazon.com.
Nothing in the world can take the place of persistence. Talent will not; nothing is more common than unsuccessful men with talent. Genius will not; unrewarded genius is almost a proverb. Education will not; the world is full of educated derelicts. Persistence and determination alone are omnipotent. 
~ Calvin Coolidge
© Marie Force/HTJB, Inc. Privacy Policy. 
Marie Force, Gansett Island, A First Family Novel, A Wild Widows Novel, A Miami Nights Novel, A Green Mountain Romance, Quantum Series, Fatal Series  and Butler, VT are registered trademarks with the United States Patent & Trademark Office.