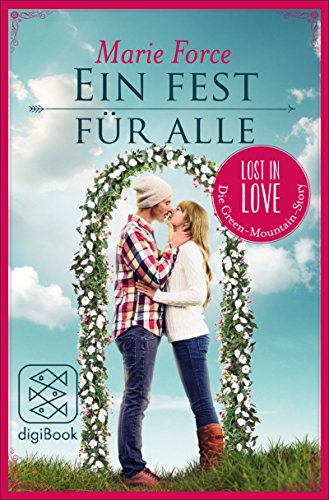 Ein Fest für alle
Will & Cam
›Ein Fest für alle‹ von Bestseller-Autorin Marie Force ist die fünfte Kurzgeschichte aus der ›Lost in Love – Die Green-Mountain-Serie‹. Eine ergreifende E-Novella, in der Leserinnen die Traumhochzeit von Cameron und Will aus Band 1, ›Alles, was du suchst‹, miterleben und viele alte Freunde wiedersehen können.
Cameron und Will können es kaum erwarten: Endlich werden sie heiraten. Doch bis dahin gibt es noch viel zu tun. Zum Beispiel hat Cameron alle Hände voll damit zu tun, die weibliche Bevölkerung Butlers vor den charmanten Avancen ihres Vaters zu bewahren. Und dann ist da noch Wills Vorsatz, sich bis zur Hochzeit in Enthaltsamkeit zu üben. Cameron nimmt die Herausforderung an und wird kreativ. Als der herbeigesehnte Tag schließlich da ist, übertrifft er selbst Wills und Camerons kühnste Träume. Alle ihre Lieben haben sich eingefunden – und sogar der ein oder andere Überraschungsgast. Für Cameron und Will beginnt eine aufregende neue Zeit, und ihrer beider Herzen sind nicht die einzigen, die an diesem Tag höherschlagen.
22. Juni 2017
Marie Force/HTJB, Inc. is a participant in the Amazon Services LLC Associates Program, an affiliate advertising program designed to provide a means for sites to earn advertising fees by advertising and linking to amazon.com.
Nothing in the world can take the place of persistence. Talent will not; nothing is more common than unsuccessful men with talent. Genius will not; unrewarded genius is almost a proverb. Education will not; the world is full of educated derelicts. Persistence and determination alone are omnipotent. 
~ Calvin Coolidge
© Marie Force/HTJB, Inc. Privacy Policy. 
Marie Force, Gansett Island, A First Family Novel, A Wild Widows Novel, A Miami Nights Novel, A Green Mountain Romance, Quantum Series, Fatal Series  and Butler, VT are registered trademarks with the United States Patent & Trademark Office.