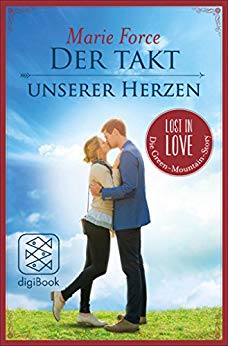 Endlich zu dir
(Lost in Love. Die Green-Mountain-Serie 4)
›Der Takt unserer Herzen‹ von Bestseller-Autorin Marie Force ist die vierte Kurzgeschichte aus der ›Lost in Love – Die Green-Mountain-Serie‹. Eine spannende E-Novella, in der Leserinnen Hunter und Megan aus Band 4, ›Schenk mir deine Träume‹, in ein weiteres Abenteuer folgen und dabei ganz neue Seiten an ihnen entdecken können.
Hunter liebt Sonntage. Seit Megan bei ihm eingezogen ist, fühlt sich jeder Tag so an. Doch an diesem Sonntag wird Hunter von einem hektischen Anruf Megans aus den Gedanken gerissen: Die beiden Kellnerinnen des Diners sind krank, der Tellerwäscher wurde verhaftet und der Diner wird von Touristen überrannt. Hunter eilt Megan sofort zu Hilfe. Diese traut ihren Augen kaum: Während sie die Bedienung der Tische übernimmt, wäscht ihr sonst so stilbewusster Geliebter unermüdlich Berge von Geschirr. Trotzdem fragt sie sich, ob sie ihm vielleicht zu viel zugemutet hat. Schließlich hat sich Hunter noch nicht vollständig von seinem Kletterunfall erholt. Nur gut, dass Megan sich zum Dank schon eine kleine Überraschung überlegt hat …
Marie Force/HTJB, Inc. is a participant in the Amazon Services LLC Associates Program, an affiliate advertising program designed to provide a means for sites to earn advertising fees by advertising and linking to amazon.com.
Nothing in the world can take the place of persistence. Talent will not; nothing is more common than unsuccessful men with talent. Genius will not; unrewarded genius is almost a proverb. Education will not; the world is full of educated derelicts. Persistence and determination alone are omnipotent. 
~ Calvin Coolidge
© Marie Force/HTJB, Inc. Privacy Policy. 
Marie Force, Gansett Island, A First Family Novel, A Wild Widows Novel, A Miami Nights Novel, A Green Mountain Romance, Quantum Series, Fatal Series  and Butler, VT are registered trademarks with the United States Patent & Trademark Office.