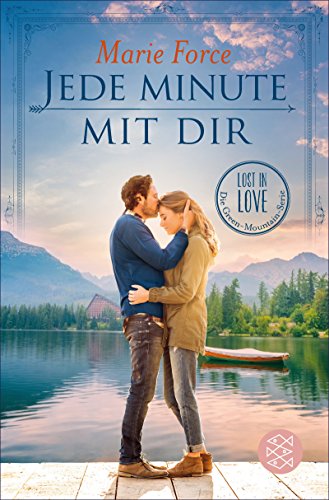 Jede Minute mit dir
(Lost in Love. Die Green-Mountain-Serie 7)
Grayson & Emma
›Jede Minute mit dir‹ von Marie Force ist der siebte Band der SPIEGEL-Bestseller-Reihe ›Lost in Love – Die Green-Mountain-Serie‹ und zugleich ein in sich abgeschlossener, romantischer und knisternder Liebesroman.
Eigentlich sucht Grayson Coleman, der Cousin der Abbotts, in Butler Ruhe und Abgeschiedenheit. Der junge, attraktive Anwalt hat das Großstadtleben und seine bedeutungslosen Affären satt. Doch mit der Ruhe ist es vorbei, als er Emma Mulvaney kennenlernt. Sie berührt sein Innerstes wie noch keine Frau vor ihr und Grayson merkt, dass er am liebsten jede Minute mit ihr verbringen würde. Emma erwidert seine Gefühle, und die beiden können nach einem gemeinsamen Abend kaum die Finger voneinander lassen. Doch Emmas Leben ist in New York, und dann ist da auch noch ihre kleine Tochter Simone. Ist Grayson bereit dazu, so viel Verantwortung zu übernehmen?
Lass dich entführen …
… in die unberührte Natur Vermonts, 
… in eine idyllische Kleinstadt, 
… in eine Großfamilie, die glücklich macht, 
… und finde die ganz große Liebe
Marie Force/HTJB, Inc. is a participant in the Amazon Services LLC Associates Program, an affiliate advertising program designed to provide a means for sites to earn advertising fees by advertising and linking to amazon.com.
Nothing in the world can take the place of persistence. Talent will not; nothing is more common than unsuccessful men with talent. Genius will not; unrewarded genius is almost a proverb. Education will not; the world is full of educated derelicts. Persistence and determination alone are omnipotent. 
~ Calvin Coolidge
© Marie Force/HTJB, Inc. Privacy Policy. 
Marie Force, Gansett Island, A First Family Novel, A Wild Widows Novel, A Miami Nights Novel, A Green Mountain Romance, Quantum Series, Fatal Series  and Butler, VT are registered trademarks with the United States Patent & Trademark Office.