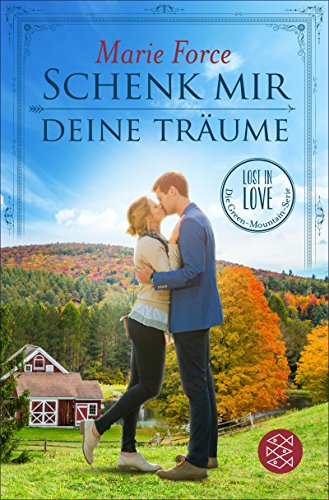 Schenk mir deine Träume
(Lost in Love. Die Green-Mountain-Serie 4)
Hunter & Megan
That's the way love goes."Schenk mir deine Träume" von Bestseller-Autorin Marie Force ist ein in sich abgeschlossener, romantischer und prickelnder Liebesroman und zugleich der vierte Band der ›Lost in Love – Die Green-Mountain-Serie‹.Als Finanzchef des Green-Mountain-Country-Store ist Hunter der einzige der Abbott-Söhne, der regelmäßig einen Anzug trägt und darin auch noch unverschämt sexy aussieht. Er ist der Traummann vieler Frauen aus Butler, aber nur für eine schlägt sein Herz – und das schon seit Jahren. Megan ist der einzige Traum seiner schlaflosen Nächte. Doch diese hat gerade ganz anderes im Kopf, als auf die schüchternen Signale des ansonsten so selbstbewussten Hunters zu achten. Denn Megan ist am Boden zerstört: Ihre Schwester, beste Freundin und Arbeitgeberin zugleich zieht (mit ihrem Ehemann) ins Ausland. Für ihre Zukunft in Butler sieht Megan gerade schwarz. Als sie schluchzend zusammenbricht, findet Hunter Megan, er bietet seine Schulter und seinen Trost an. Megan lässt es zu und findet sich wieder in einem Strudel aus Leidenschaft und knisternder Erotik. Endlich kann sie loslassen – und die Affäre ist für sie eine willkommene Ablenkung … Doch sosehr Hunter auch die hemmungslosen Nächte mit Megan genießt, so sehr wünscht er sich auch eine feste Bindung zu ihr. Wie kann er Megan, die nunmehr wenig in Butler hält, zum Bleiben bewegen? 
Marie Force/HTJB, Inc. is a participant in the Amazon Services LLC Associates Program, an affiliate advertising program designed to provide a means for sites to earn advertising fees by advertising and linking to amazon.com.
Nothing in the world can take the place of persistence. Talent will not; nothing is more common than unsuccessful men with talent. Genius will not; unrewarded genius is almost a proverb. Education will not; the world is full of educated derelicts. Persistence and determination alone are omnipotent. 
~ Calvin Coolidge
© Marie Force/HTJB, Inc. Privacy Policy. 
Marie Force, Gansett Island, A First Family Novel, A Wild Widows Novel, A Miami Nights Novel, A Green Mountain Romance, Quantum Series, Fatal Series  and Butler, VT are registered trademarks with the United States Patent & Trademark Office.