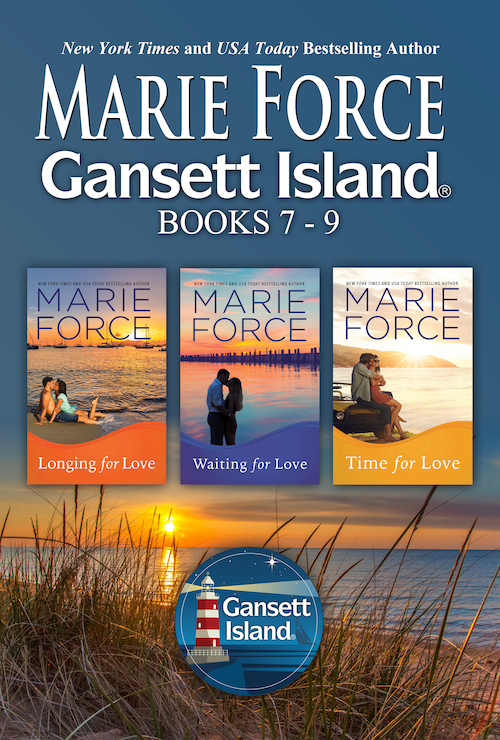 Gansett Island Boxed Set Books 7-9
By Marie Force
Take a long vacation on Gansett Island…uninterrupted!
With more than 2.5 million ebooks sold since Maid for Love debuted in 2011, the New York Times bestselling Gansett Island Series has become one of the most beloved romance series available today. Read three books in the series: Longing for Love,Waiting for Love and Time for Love in this special offering.
Book 7: Longing for Love Series favorite Tiffany Sturgil steals the spotlight in Longing for Love as her new boutique Naughty & Nice opens in downtown Gansett, right in time for the annual spring Race Week festivities. Finally divorced and ready for a new beginning, Tiffany wonders if sexy Police Chief Blaine Taylor thinks of her as often as she thinks of him since their explosive encounter last fall. Blaine has been burned in the past by love affairs gone wrong, and he's wary about risking too much too soon. But he quickly discovers that Tiffany's sarcastic rejoinders and bitter outer shell hide a badly wounded heart of gold. He also discovers she's a "sex-toy fraud" and convinces her she can't possibly sell the merchandise without trying it out first…
Book 8: Waiting for Love Sometimes the best offense is a good rebound… Adam McCarthy has had a really bad week. What he needs is a few days at home on Gansett Island to make sure his beloved brothers are safe and to get back in touch with what really matters—his family, his friends and the tiny island that soothes his battered soul. On the ferry ride home, he runs into an old family friend who's had her own share of heartache, and Adam helps her through some rough moments, sparking an unlikely alliance. Abby Callahan has come home to Gansett, single once again after her relationship with Dr. Cal Maitland blows up in her face. After two epic failures in the game of love, she's decided this is going to be the summer she busts loose and finally has some fun—and she's shaking things up in a big way! The new Abby swears, drinks, gets a tattoo, sleeps around and generally does anything her kinder, gentler alter ego wouldn't have dreamed of doing. Before too long, Adam has appointed himself her guardian and is determined that the only sleeping around she's doing is with him. Does she have it in her to find out if the third time really is the charm?
Book 9: Time for Love Dr. David Lawrence has spent the last two years atoning for his sins and recovering from the devastating breakup with Gansett Island golden girl Janey McCarthy. As the island's only doctor, he's had ample opportunity to show his fellow island residents that there's more to him than the guy who disappointed Janey so profoundly. Now if only he could find a way to forgive himself, he might be able to move on with his life without the woman he'd expected to love forever… Daisy Babson, probationary director of housekeeping at McCarthy's Gansett Island Inn, is in bad need of a fresh start after her relationship with Truck Henry took a violent turn, leaving her battered and broken—in more ways than one. As she recovers from her injuries, her days are made brighter by her visits with David Lawrence. The kind and caring doctor who tended to her after the attack has become much more than a friend to her in recent weeks. Will these two wounded hearts take comfort from one another and move forward on a new path toward love together? Or will ghosts from the past derail them before they get the chance for their own happily ever after?  
Nothing in the world can take the place of persistence. Talent will not; nothing is more common than unsuccessful men with talent. Genius will not; unrewarded genius is almost a proverb. Education will not; the world is full of educated derelicts. Persistence and determination alone are omnipotent. 
~ Calvin Coolidge
© Marie Force/HTJB, Inc. Privacy Policy. 
Marie Force, Gansett Island, A Green Mountain Romance, Quantum Series and Fatal Series are registered trademarks with the United States Patent & Trademark Office.