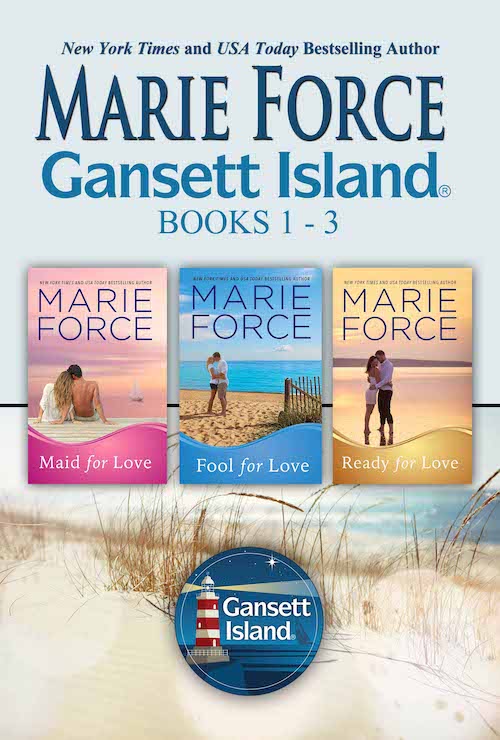 Gansett Island Boxed Set Books 1-3
By Marie Force
 Take a long vacation on Gansett Island…uninterrupted!
With more than 4 million ebooks sold since Maid for Love debuted in 2011, the New York Times bestselling Gansett Island Series has become one of the most beloved romance series available today. Read the first three books in the series: Maid for Love, Fool for Love and Ready for Love in this special offering.
Book 1: Maid for Love
Maddie Chester is determined to leave her hometown of Gansett Island, a place that has brought her only bad memories and ugly rumors. Then she's knocked off her bike on the way to her housekeeping job at McCarthy's Resort Hotel by Gansett's "favorite son," Mac McCarthy. He's back in town to help his father with preparations to sell the family resort and has no intention of staying long. When Mac accidentally sends Maddie flying over the handlebars, badly injuring her, he moves in to nurse her back to health and help care for her young son. He soon realizes his plans for a hit-and-run visit to the island are in serious jeopardy, and he just may be "maid" for love.
Book 2: Fool for Love
Joe Cantrell, owner of the Gansett Island Ferry Company, has been in love with Janey McCarthy for as long as he can remember. At the same time, Janey has been dating or engaged to doctor-in-training David Lawrence. When things go horribly wrong between David and Janey, she calls her "fifth brother" Joe, one of the few people in her close circle who lives on the mainland. Janey decides a few days with Joe is just what she needs before she goes home to the island to face her parents and family with the news of her broken engagement. It was bad enough for Joe loving Janey from afar, but having her in his house is pure torture. Will he take advantage of this opportunity to show her what they could have together? And what will Joe's best friend and Janey's protective older brother Mac have to say about it?
Book 3: Ready for Love
For four of the best summers of his young life, Luke Harris was in love with Sydney Donovan, a wealthy seasonal visitor to Gansett Island. Then Sydney went off to college and never came back. She married another man and had two children while Luke remained on the island, working at McCarthy's Gansett Marina and wondering what had gone wrong between him and the only woman he ever loved. Fifteen months after Sydney suffers the tragic loss of her husband and children, she's returned to Gansett to figure out what's next, and that may very well be a rekindled love affair with the one man from her past she's never forgotten. But is she ready for a second chance at love? The story picks up with Book 4, Falling for Love, with many more Gansett Island stories available in the series and more to come from the island! "With the McCarthy's of Gansett Island, Marie Force makes you believe in the power of true love and happily ever after. Over and over again." Carly Phillips, NY Times Bestselling Author of the Serendipity series. 
Nothing in the world can take the place of persistence. Talent will not; nothing is more common than unsuccessful men with talent. Genius will not; unrewarded genius is almost a proverb. Education will not; the world is full of educated derelicts. Persistence and determination alone are omnipotent. 
~ Calvin Coolidge
© Marie Force/HTJB, Inc. Privacy Policy. 
Marie Force, Gansett Island, A Green Mountain Romance, Quantum Series and Fatal Series are registered trademarks with the United States Patent & Trademark Office.