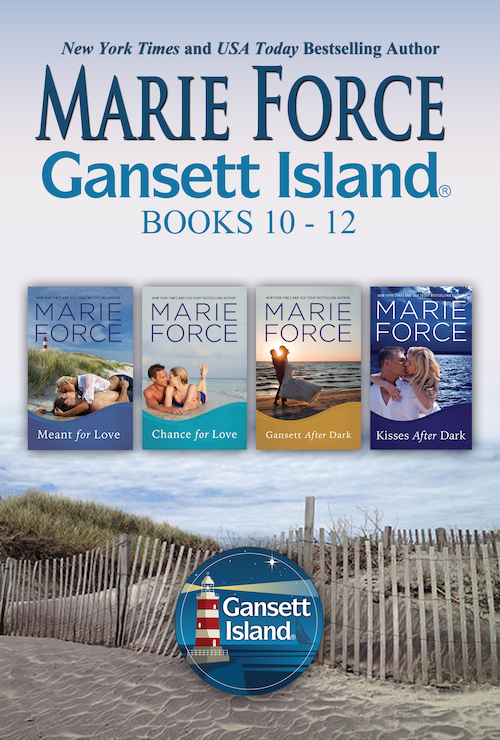 Gansett Island Boxed Set Books 10-12
By Marie Force
Take a long vacation on Gansett Island…uninterrupted!
Meant for Love, Book 10, Gansett Island Series
She's waited a long time for her second chance at love…
It's been twelve years since Jenny Wilks lost her fiancé in the 9/11 attacks in New York City. Taking the job as lighthouse keeper on Gansett Island was the best thing she could've done for herself. She's recently asked her new friends to fix her up with some of the island's more eligible men. While her friends are busy arranging dates for her, Alex Martinez comes to cut the grass at the lighthouse.
During a scorching summer heat wave on Gansett, Jenny and Alex take comfort in each other, and what begins as a hot summer fling quickly becomes something much more lasting. But will it hold up beyond the heat wave when real life intrudes on their sexy interlude?
Chance for Love, Book 10.5, Gansett Island Series
Billionaire Jared James has everything a man could ever want except for the one thing money can't buy…
Still reeling from his true love turning down his proposal, Jared James takes refuge in his Gansett Island home. Little does he know that his beloved Lizzie didn't mean to say no…
Gansett After Dark, Book 11, Gansett Island Series
Owen Lawry is days away from leaving Gansett Island to attend the trial of his father, who is charged with assaulting his mother almost a year ago. His biggest challenge is convincing his pregnant fiancée, Laura McCarthy, to sit out the trip. The last thing he wants is to expose the woman he loves to the pain of his past.
Laura is determined to stand by Owen's side throughout the trial and into the life they have planned together. Can she convince Owen to let her in and allow her to help him through this difficult time? And what will become of the man she loves if his father walks free?
Kisses After Dark, Book 12, Gansett Island Series
She's avoided men all her life…
Growing up with an abusive father, Katie Lawry learned a thing or two about men and has made a conscious choice to stay far away from them. Until the day of her brother Owen's wedding when she's rescued from nearly drowning by Shane McCarthy. More than two years after a painful divorce, Shane has a life on Gansett Island that makes sense to him. Spending time with sweet, sensitive, sexy Katie Lawry makes him feel hopeful again, and he might be ready to risk his heart again.
Nothing in the world can take the place of persistence. Talent will not; nothing is more common than unsuccessful men with talent. Genius will not; unrewarded genius is almost a proverb. Education will not; the world is full of educated derelicts. Persistence and determination alone are omnipotent. 
~ Calvin Coolidge
© Marie Force/HTJB, Inc. Privacy Policy. 
Marie Force, Gansett Island, A Green Mountain Romance, Quantum Series and Fatal Series are registered trademarks with the United States Patent & Trademark Office.