Read the Fatal Accusation Bonus Story Here!
Get to know the Fatal Series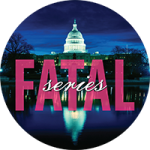 Thank you for your interest in the Fatal Series! I first began writing Sam and Nick's story way back in 2007 when I read about a congressman who'd been found dead in his Washington, D.C.-area home. At first, his death was investigated as a possible crime but it was later determined he died of natural causes. I wondered… If he had been murdered, who would've had jurisdiction over the case? That question led to Sam and Nick and the rest… Well, there's no end in sight for our favorite D.C. homicide detective and her politician husband. I hope you enjoy Sam and Nick's wild ride as much as I've enjoyed writing it!
While the Fatal Series books can stand alone, with a complete story in each book, you will enjoy them more if you read them in order as Sam and Nick's story unfolds chronologically.
Watch Marie Force discuss the Fatal Series.
Books in Order
Click on the link for each book to access ebook, print and audio purchase links as well as excerpts and other information about the books.
Purchase the Fatal Series Merchandise
Nothing in the world can take the place of persistence. Talent will not; nothing is more common than unsuccessful men with talent. Genius will not; unrewarded genius is almost a proverb. Education will not; the world is full of educated derelicts. Persistence and determination alone are omnipotent. 
~ Calvin Coolidge
© Marie Force/HTJB, Inc. Privacy Policy. 
Marie Force, Gansett Island, Quantum Series and Fatal Series are registered trademarks with the United States Patent & Trademark Office.