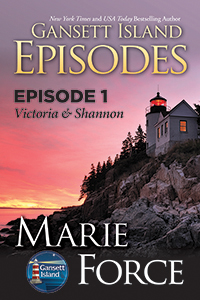 In a newsletter to readers, Marie answered questions about the upcoming Gansett Island book, a novella that will feature island midwife Victoria and her boyfriend Shannon. Episode 1 releases on March 21. Click here for more information and preorder.
Book Description:
Gansett Island midwife Victoria Stevens loves taking care of people, in her job and in her personal life, especially when it comes to her boyfriend of one year, sexy Irishman Shannon O'Grady. Fueled by combustible chemistry, her relationship with Shannon has been H-O-T from the start. But she's begun to wonder whether theirs is destined to be a short-term fling or possibly the love of a lifetime. When she goes looking for answers about his past, she learns something she was better off not knowing and isn't sure what to do with her newfound information. What will happen when Shannon finds out she's been asking questions about him, and will they be able to overcome the obstacles standing between them and happily ever after? Find out in this first Gansett Island Episode, which also includes the arrival of some long-awaited island babies!
Here are a few other questions and answers about the Episodes:
Q: Will you still write full-length Gansett Island books?
A: Yes! Absolutely. My plan is to next write Episode 2, featuring Kevin and Chelsea. I will use that Episode to tell more of their story AND get to know Kevin's sons, Riley and Finn, a little better so I can then write full-length books for each of them.
Q: What other characters are you considering for Episodes?
A: I'd like to do something with Dan and Kara, who have never been showcased in their own book. I'd love to have Seamus take Caro and the boys to Ireland to see where he's from and to meet his extended family. I'd like to do more about Adam and Abby and their quest to become parents. And that's just a few of the ideas I've had so far. So you can see I have lots of stories I'd still like to tell within the Gansett world. Feel free to respond to this message and tell me what else you'd like to see in a future Episode!
Q: How long is Episode 1?
A: It's 32,000 words, which translates to about 115 pages in book format. I promise you a fully formed, emotionally satisfying story in every Episode.
Q: Do I have to read the series in order? In other words, does Episode 1 follow Light After Dark in the Gansett timeline?
Yes, it does. Early on in the planning for the Episodes, I realized that I would need to incorporate them into the series timeline so they weren't just "floating" out there on their own, separate from the larger story on Gansett. So the series list will incorporate the Episodes in the order in which they appear.