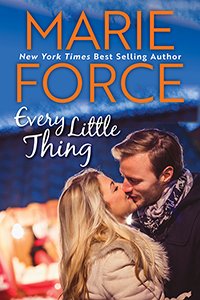 Book 1 in the Butler, Vermont Series, Every Little Thing, released in ebook, print and audio today. This new series is a continuation of the Green Mountain Series and picks up right where Ain't She Sweet left off.
"Force has become one of my favorite authors. I devour her books when they come out and always look forward to reading more.  Another five star read!"—Recommended read from Romance Junkie
Click here to read Marie's release day newsletter including details about the release week contest, ebook sales as well as a discount code for 15% off signed books and merchandise in Marie's online store.