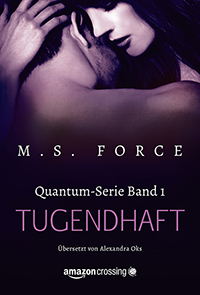 Tugendhaft
(Quantum-Serie Band 1)
Flynn & Natalie
Nach einem traumatischen Erlebnis hat sich die junge Lehrerin Natalie in New York City ein neues Leben aufgebaut. Sie liebt ihre Arbeit mit den Kindern, ihren Hund Fluff und die Wohngemeinschaft mit der unbekümmerten Leah. Den Männern hat sie jedoch abgeschworen.
Ihre wohlgeordnete Welt gerät ins Wanken, als sie beim Versuch, ihren Hund einzufangen, in den berühmten Schauspieler Flynn Godfrey rennt. Zwischen beiden funkt es sofort. Doch während Natalie eher verstört ist über die sinnliche Anziehungskraft zwischen ihnen, verliebt sich Flynn unsterblich und setzt alles daran, ihr Vertrauen zu gewinnen. Was Natalie nicht weiß: Flynn wird getrieben von dunklen erotischen Begierden, die das Ende für ihre Liebe bedeuten könnten, wenn sie je davon erführe.
Marie Force/HTJB, Inc. is a participant in the Amazon Services LLC Associates Program, an affiliate advertising program designed to provide a means for sites to earn advertising fees by advertising and linking to amazon.com.
Nothing in the world can take the place of persistence. Talent will not; nothing is more common than unsuccessful men with talent. Genius will not; unrewarded genius is almost a proverb. Education will not; the world is full of educated derelicts. Persistence and determination alone are omnipotent. 
~ Calvin Coolidge
© Marie Force/HTJB, Inc. Privacy Policy. 
Marie Force, Gansett Island, A First Family Novel, A Wild Widows Novel, A Miami Nights Novel, A Green Mountain Romance, Quantum Series, Fatal Series  and Butler, VT are registered trademarks with the United States Patent & Trademark Office.