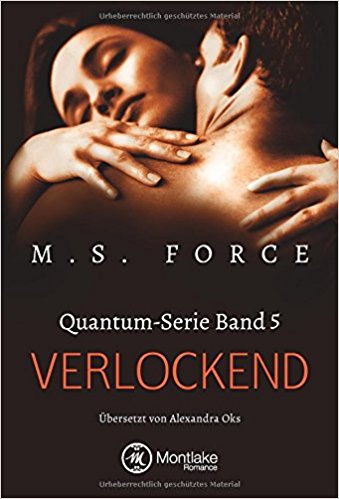 Verlockend
(Quantum-Serie Band 5)
Ellie & Jasper
Eine unvergessliche Nacht ändert Ellies Leben für immer …
Der neue prickelnde Band der erotischen Quantum-Reihe von US-Bestsellerautorin M.S. Force.
Ellie ist sexy, talentiert und wunderschön – aber als Schwester von Hollywoodstar Finn Godfrey tabu für die Männer bei der Produktionsfirma Quantum. Doch als der Kameramann Jasper hört, dass Ellie sich ein Kind wünscht, bietet er ihr nur zu gern seine »Hilfe« an. Sie akzeptiert, auch wenn die Bedingungen, die Jasper stellt, sie in nie gekannte Abgründe des Begehrens führen. Nach dem heißesten Sex ihres Lebens wird Ellie klar, dass sie einen Pakt mit dem Teufel geschlossen hat. Denn plötzlich will sie so viel mehr von Jasper …
Das Buch ist in sich abgeschlossen und kann unabhängig von den anderen Bänden der Reihe gelesen werden.
Marie Force/HTJB, Inc. is a participant in the Amazon Services LLC Associates Program, an affiliate advertising program designed to provide a means for sites to earn advertising fees by advertising and linking to amazon.com.
Nothing in the world can take the place of persistence. Talent will not; nothing is more common than unsuccessful men with talent. Genius will not; unrewarded genius is almost a proverb. Education will not; the world is full of educated derelicts. Persistence and determination alone are omnipotent. 
~ Calvin Coolidge
© Marie Force/HTJB, Inc. Privacy Policy. 
Marie Force, Gansett Island, A First Family Novel, A Wild Widows Novel, A Miami Nights Novel, A Green Mountain Romance, Quantum Series, Fatal Series  and Butler, VT are registered trademarks with the United States Patent & Trademark Office.