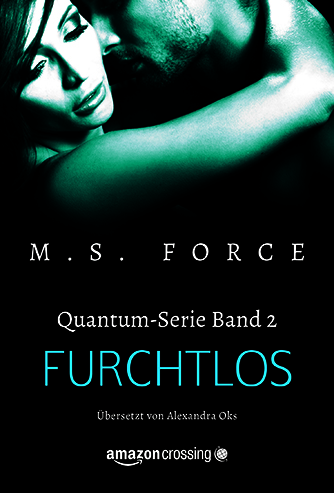 Furchtlos
(Quantum-Serie Band 2)
Flynn & Natalie
Plötzlich im Rampenlicht! Die ganze Welt interessiert sich für die schöne Frau, mit der Hollywoods Sexsymbol Flynn Godfrey bei den Golden Globes erschienen ist. Mit einem Mal sind Informationen über ihre Identität viel Geld wert. Nach einer unglaublichen Nacht, die Natalie mit Flynn erlebt, erscheint ihre Geschichte am nächsten Tag in allen Medien.
Natalie ist am Boden zerstört, doch Flynn gerät in einen nie gekannten Aufruhr der Gefühle: Er kann ihren Kummer kaum ertragen und macht seinen ganzen Einfluss geltend, um denjenigen zu finden, der Natalie an die Boulevardpresse verraten hat. Zugleich weiß er, dass es vor allem seine eigenen Dämonen sind, die ihre Liebe gefährden. Kann er Natalie die Wahrheit über seine erotischen Begierden zumuten?
Marie Force/HTJB, Inc. is a participant in the Amazon Services LLC Associates Program, an affiliate advertising program designed to provide a means for sites to earn advertising fees by advertising and linking to amazon.com.
Nothing in the world can take the place of persistence. Talent will not; nothing is more common than unsuccessful men with talent. Genius will not; unrewarded genius is almost a proverb. Education will not; the world is full of educated derelicts. Persistence and determination alone are omnipotent. 
~ Calvin Coolidge
© Marie Force/HTJB, Inc. Privacy Policy. 
Marie Force, Gansett Island, A First Family Novel, A Wild Widows Novel, A Miami Nights Novel, A Green Mountain Romance, Quantum Series, Fatal Series  and Butler, VT are registered trademarks with the United States Patent & Trademark Office.