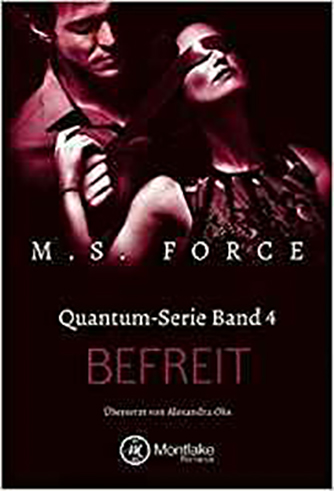 Befreit
(Quantum-Serie Band 4)
Hayden & Addie
Findet sich nach Flynn und Natalie ein weiteres Traumpaar?
Der neue prickelnde Band der erotischen Quantum-Reihe von Bestsellerautorin M.S. Force.
Regisseur Hayden Roth ist der Star der Filmbranche – besessen von seiner Arbeit, erfolgreich und sehr sexy. Als Hayden den Oscar für die beste Regie gewinnt, wird die ganze Welt Zeuge, wie er seine Assistentin Addison York voller Leidenschaft küsst, bevor er auf die Bühne geht, um die begehrte Trophäe in Empfang zu nehmen. Die heiße Nacht, die sie danach miteinander verbringen, verändert alles zwischen ihnen. Doch dann muss Addison erfahren, dass Hayden nicht bereit ist, seine dunkelsten Geheimnisse mit ihr zu teilen. Sie trifft eine mutige Entscheidung …
Das Buch ist in sich abgeschlossen und kann unabhängig von den anderen Bänden der Reihe gelesen werden.
Marie Force/HTJB, Inc. is a participant in the Amazon Services LLC Associates Program, an affiliate advertising program designed to provide a means for sites to earn advertising fees by advertising and linking to amazon.com.
Nothing in the world can take the place of persistence. Talent will not; nothing is more common than unsuccessful men with talent. Genius will not; unrewarded genius is almost a proverb. Education will not; the world is full of educated derelicts. Persistence and determination alone are omnipotent. 
~ Calvin Coolidge
© Marie Force/HTJB, Inc. Privacy Policy. 
Marie Force, Gansett Island, A First Family Novel, A Wild Widows Novel, A Miami Nights Novel, A Green Mountain Romance, Quantum Series, Fatal Series  and Butler, VT are registered trademarks with the United States Patent & Trademark Office.