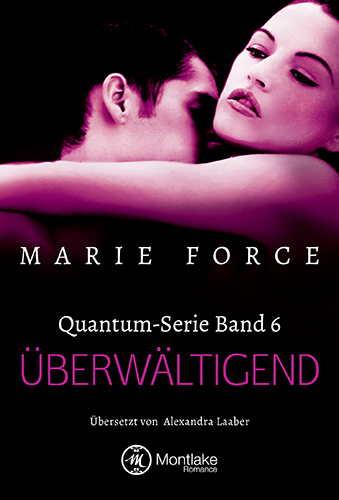 Überwältigend
(Quantum-Serie Band 6)
Alieen & Kristian
Der neue prickelnde Band der erotischen Quantum-Reihe von US-Bestsellerautorin Marie Force.

Finden Aileen und Kristian endlich zueinander?

Kristian Bowen ist erfolgreicher Hollywood-Produzent bei Quantum und ein attraktiver Mann mit besonderen Vorlieben. Alles läuft bestens, bis die zerbrechliche Aileen Gifford in sein Leben tritt. Plötzlich geht es für Kristian um ganz neue, ungeahnt starke Gefühle – Gefühle, die er unbedingt kontrollieren will, um Aileen zu schützen. Aber kann er wirklich die Finger von ihr lassen?
Die alleinerziehende Mutter hat nach ihrer Erkrankung ein Jahr voller Ängste und Sorgen hinter sich. Da ist ihr neuer Job bei Quantum für sie wie ein Sechser im Lotto – auch weil sie dort Kristian wiedersieht, den Mann, den sie so heiß findet wie keinen anderen. Was sie nicht weiß: Kristian ist ein Mann mit einer dunklen Vergangenheit und er wird alles tun, um seine Geschichte vor den Menschen geheim zu halten, die ihm etwas bedeuten. Besonders Aileen.
Marie Force/HTJB, Inc. is a participant in the Amazon Services LLC Associates Program, an affiliate advertising program designed to provide a means for sites to earn advertising fees by advertising and linking to amazon.com.
Nothing in the world can take the place of persistence. Talent will not; nothing is more common than unsuccessful men with talent. Genius will not; unrewarded genius is almost a proverb. Education will not; the world is full of educated derelicts. Persistence and determination alone are omnipotent. 
~ Calvin Coolidge
© Marie Force/HTJB, Inc. Privacy Policy. 
Marie Force, Gansett Island, A First Family Novel, A Wild Widows Novel, A Miami Nights Novel, A Green Mountain Romance, Quantum Series, Fatal Series  and Butler, VT are registered trademarks with the United States Patent & Trademark Office.