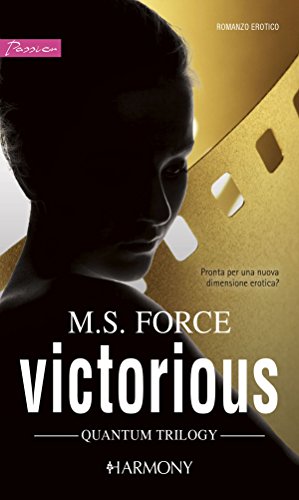 Victorious (versione Italiana) 
(Serie Quantum, Libro 3)
Il matrimonio tra Nathalie e Flynn, attore di successo, è già in crisi dopo poco tempo. La giovane insegnante ha lasciato il marito dopo aver scoperto che le aveva taciuto i suoi particolari gusti erotici. Sentendosi tradita per aver aperto il proprio cuore e aver ricevuto in cambio bugie e omissioni, decide di abbandonare la sfavillante vita di New York e di raggiungere la sorella minore in Colorado. Nel frattempo Flynn, rimasto solo, deve affrontare delle indagini a suo carico relative a un uomo, in passato molto vicino a Nathalie, trovato morto per cause da accertare. 
I due, però, non riescono a stare lontani, si amano, e appena si incontrano di nuovo riemerge travolgente la passione. La giovane, decisa a sondare il lato finora oscuro del marito e a condividerlo con lui, viene così gradualmente introdotta al mondo sadomaso e ai suoi giochi proibiti. Un equilibrio altamente erotico si crea nella coppia, esposta a nuove sconvolgenti rivelazioni.
Nothing in the world can take the place of persistence. Talent will not; nothing is more common than unsuccessful men with talent. Genius will not; unrewarded genius is almost a proverb. Education will not; the world is full of educated derelicts. Persistence and determination alone are omnipotent. 
~ Calvin Coolidge
© Marie Force/HTJB, Inc. Privacy Policy. 
Marie Force, Gansett Island, A Green Mountain Romance, Quantum Series and Fatal Series are registered trademarks with the United States Patent & Trademark Office.