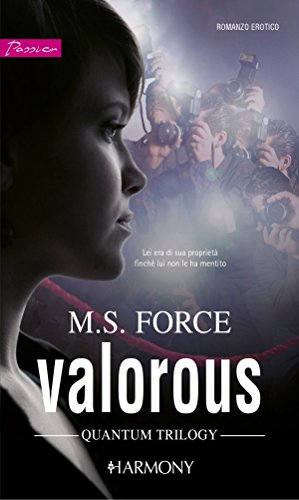 Valorous (versione Italiana) 
(Serie Quantum, Libro 2)
La vita di Natalie e del bellissimo attore Flynn viene sconvolta per l'ennesima volta dai segreti e da un passato che riaffiorano violentemente. Nonostante tutto, però, la vorticosa relazione che li unisce cresce di giorno in giorno diventando sempre più intensa, carica di romanticismo e passione. Flynn si mette totalmente in gioco per la donna che ama, ne asseconda ogni desiderio e fa di tutto per proteggere ciò che reputa di sua proprietà.
Quando poi Natalie gli racconta la propria storia, Flynn le chiede di sposarlo. I due sono felicissimi, ma i segreti non sono finiti: un agente dell'FBI si presenta a casa dell'attore con delle accuse a suo carico, inoltre Natalie scopre una stanza segreta colma di giochi sadomaso nel seminterrato, venendo così a conoscenza delle tendenze erotiche del partner. Rimasta sconvolta, non vuole più bugie, così lo affronta e quando Flynn nega, sentendosi tradita, lei lo lascia. Lui è disperato e furioso per l'abbandono, ma alla sua porta suona nuovamente l'agente dell'FBI e non porta buone notizie.
Nothing in the world can take the place of persistence. Talent will not; nothing is more common than unsuccessful men with talent. Genius will not; unrewarded genius is almost a proverb. Education will not; the world is full of educated derelicts. Persistence and determination alone are omnipotent. 
~ Calvin Coolidge
© Marie Force/HTJB, Inc. Privacy Policy. 
Marie Force, Gansett Island, A Green Mountain Romance, Quantum Series and Fatal Series are registered trademarks with the United States Patent & Trademark Office.