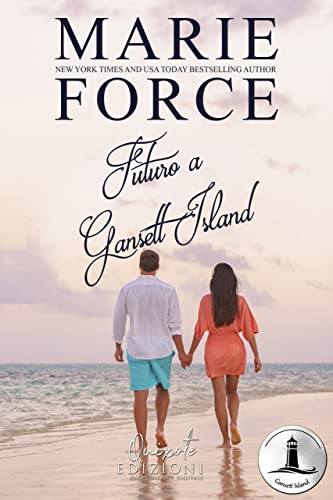 Futuro a Gansett Island
(Gansett Island Vol. 6)
DALL'AUTRICE NEW YORK TIMES E USA TODAY BEST SELLER, MARIE FORCE, LA SERIE CHE HA VENDUTO OLTRE 3.000.000 DI COPIE IN TUTTO IL MONDO
Owen Lawry ha sempre vissuto da musicista nomade e adora il suo stile di vita semplice e senza fronzoli. Ma dopo aver incontrato Laura McCarthy e averla aiutata a ottenere il lavoro di direttrice dell'albergo dei suoi nonni a Gansett Island, Owen decide che c'è qualcosa di allettante nell'avere un tetto sulla testa e una donna sexy e calorosa nel suo letto.
Laura, una donna appena sposata che ha scoperto che il marito non ha mai smesso di vedere altre donne, è venuta a Gansett per il matrimonio di sua cugina Janey, ma è finita con il rimanere dopo aver incontrato Owen e aver accettato di restaurare il fatiscente Sand & Surf Hotel.
Mentre l'attrazione tra i due ribolle durante i mesi di stretta vicinanza, tra loro nasce un forte legame che sarà messo alla prova quando l'ex marito di Laura rifiuterà di concederle il divorzio. Mentre l'estate diventa autunno e Laura e Owen fanno piccoli passi verso l'amore, i personaggi preferiti delle precedenti storie di Gansett Island continuano a vivere i loro lieto fine.
Nothing in the world can take the place of persistence. Talent will not; nothing is more common than unsuccessful men with talent. Genius will not; unrewarded genius is almost a proverb. Education will not; the world is full of educated derelicts. Persistence and determination alone are omnipotent. 
~ Calvin Coolidge
© Marie Force/HTJB, Inc. Privacy Policy. 
Marie Force, Gansett Island, A Green Mountain Romance, Quantum Series and Fatal Series are registered trademarks with the United States Patent & Trademark Office.