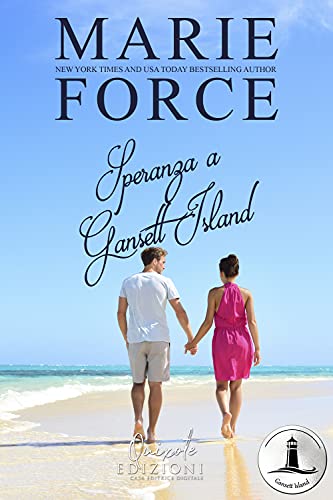 Speranza a Gansett Island
(Gansett Island Vol. 5)
DALL'AUTRICE NEW YORK TIMES E USA TODAY BEST SELLER, MARIE FORCE
Lui le ha dato una mano quando lei ne aveva bisogno. Ma può darle anche un lieto fine?
Per tutta la vita, Grace Ryan è stata la "ragazza grassa". Perseguitata e derisa dai suoi coetanei, ha provato ogni dieta mai inventata senza alcun risultato. Nel disperato tentativo di cambiare la sua vita, e visto che sta andando verso i trenta, ha deciso che è arrivato il momento di passare alle misure drastiche e si è sottoposta a un intervento di riduzione gastrica. A distanza di un anno, ha perso sessanta chili e si sta avventurando nel mondo degli appuntamenti galanti per la prima volta. Durante un viaggio in barca a Gansett Island, con il suo nuovo ragazzo, Grace si rifiuta di fare sesso con lui e si ritrova abbandonata e senza un soldo nel porto turistico dei McCarthy.
A casa per l'estate, in attesa del lancio del suo album di debutto, la celebrità musicale Evan McCarthy si sta esibendo al Tiki Bar quando nota Grace, che sembra sperduta in una folla di persone felici e ne rimane subito colpito. Ma l'ultima cosa di cui Grace ha bisogno, dopo tutto quello che ha passato, è un ragazzo che "non cerca relazioni".
Evan cambierà idea per conquistare il cuore di Grace?
Nothing in the world can take the place of persistence. Talent will not; nothing is more common than unsuccessful men with talent. Genius will not; unrewarded genius is almost a proverb. Education will not; the world is full of educated derelicts. Persistence and determination alone are omnipotent. 
~ Calvin Coolidge
© Marie Force/HTJB, Inc. Privacy Policy. 
Marie Force, Gansett Island, A Green Mountain Romance, Quantum Series and Fatal Series are registered trademarks with the United States Patent & Trademark Office.