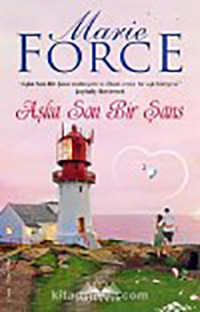 Aşka Son Bir Şans
(Gansett Island)
Sevginin ne olduğunu öğrendiğim günden beri seni seviyorum, benimle aşka var mısın?
Trajik bir trafik kazasında ailesini kaybeden Sydney, geleceğini yeniden şekillendirmek üzere çocukken yaz aylarını geçirdiği
Gansett Adası'na dönüyor ve on yedi yıl önce hiçbir şey söylemeden terk ettiği ilk aşkı Luke'la karşılıyor.
Tüm yaşadıklarının ardından şüphe, pişmanlık, suçluluk duygusu ve içinde canlanan yeni ama tanıdık hislerle boğuşan Sydney,
aşka son bir şans verip mutluluğu bulabilecek mi, yoksa kendi yalnızlığını mı seçecek?
Gansett Adası büyülü, romantik ve ateşli aşklara yelken açmak isteyenleri bekliyor.
"Aşka Son Bir Şans muhteşem ve ilham verici bir aşk hikâyesi."
Joyfully Reviewed
"Sadece Luke ve Sydney'nin bu romantik ve gelgitli ilişkisi değil, Gansett Adası'ndaki aşk kokusu da hiç unutulmayacak."
Booklist
"McCarthy ailesiyle henüz tanışmadıysanız şimdi tam vakti, onların eğlenceyle hüznün iç içe geçtiği birbirinden farklı ve renkli hikâyelerinden vazgeçemeyeceksiniz."
Amazon
Marie Force/HTJB, Inc. is a participant in the Amazon Services LLC Associates Program, an affiliate advertising program designed to provide a means for sites to earn advertising fees by advertising and linking to amazon.com.
Nothing in the world can take the place of persistence. Talent will not; nothing is more common than unsuccessful men with talent. Genius will not; unrewarded genius is almost a proverb. Education will not; the world is full of educated derelicts. Persistence and determination alone are omnipotent. 
~ Calvin Coolidge
© Marie Force/HTJB, Inc. Privacy Policy. 
Marie Force, Gansett Island, A First Family Novel, A Miami Nights Novel, A Green Mountain Romance, Quantum Series, Fatal Series  and Butler, VT are registered trademarks with the United States Patent & Trademark Office.