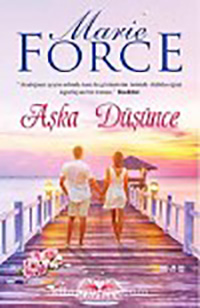 Aşka Düşünce
(Gansett Island)
Aşk kaybettiğinde değil, ondan vazgeçtiğinde biter…
Joe kendini bildi bileli Janey'e âşıktır fakat genç kadın bundan bihaberdir. Nişanlı olan ve ilişkisinin mükemmel bir seyirde 
yol aldığını zanneden Janey evlilik hazırlıkları devam ederken nişanlısının kendisini aldattığına şahit olur. Bu sarsıcı olayı 
atlatmak için birkaç günlüğüne ağabeyi olarak gördüğü Joe'nun yanında kalmanın iyi olacağını düşünür. Genç adamın önünde 
artık iki yol vardır. Bu fırsatı değerlendirerek, beraber olmalarının getireceği güzellikleri Janey'e kanıtlamayı mı yoksa ondan uzak durmayı mı tercih edecektir?
"Bir Aşk Çarpıntısı'yla romantik tür yazmakta ne kadar yetenekli olduğunu gösteren Marie Force, ikinci kitabı Aşka Düşünce ile bunu bir kez daha kanıtlıyor. Unutulmaz bir aşk hikâyesiyle karşı karşıyasınız."
Kirkus Reviews
"Dolu dolu bir aşk hikâyesini eğlenceli bir anlatımla sunan Marie Force, Aşka Düşünce romanıyla harika bir 
iş çıkarmış."
Amazon
"Aradığınız şeyin aslında tam da gözünüzün önünde olabileceğini ispatlayan bir roman."
Booklist
Marie Force/HTJB, Inc. is a participant in the Amazon Services LLC Associates Program, an affiliate advertising program designed to provide a means for sites to earn advertising fees by advertising and linking to amazon.com.
Nothing in the world can take the place of persistence. Talent will not; nothing is more common than unsuccessful men with talent. Genius will not; unrewarded genius is almost a proverb. Education will not; the world is full of educated derelicts. Persistence and determination alone are omnipotent. 
~ Calvin Coolidge
© Marie Force/HTJB, Inc. Privacy Policy. 
Marie Force, Gansett Island, A First Family Novel, A Miami Nights Novel, A Green Mountain Romance, Quantum Series, Fatal Series  and Butler, VT are registered trademarks with the United States Patent & Trademark Office.