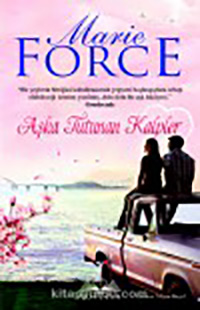 Aşka Tutunan Kalpler
(Gansett Island)
Geçmişinle yüzleş ve aşka tutun, çünkü aşk sonsuza dek seninle olacak Grant, kendisini terk edip Gansett Adası'na geri dönen, bir de üstüne üstlük başka biriyle nişanlanan Abby'yi geri kazanmak için türlü planlar yapar. Eski sevgilisinden yüz bulamadığı gibi Hollywood'daki muhteşem kariyeri de kötüye gitmektedir. Derken büyük bir fırtına kopar ve herkes adada mahsur kalır. Üzerinde bu kadar kara bulut varken Grant için doğacak yeni günün ışığı ise bir kadının adında saklıdır: Stephanie! Bu arada adada hayat tüm hızıyla devam ediyor. Maddie doğum sancıları çekerken kocası Mac dokuz doğuruyor. Ned, Francine'in dengesiz ruh halleriyle uğraşıyor. Laura ise yepyeni başlangıçlar peşinde. Kısacası yaşamla dopdolu olan Gansett Adası ziyaretçilerini bekliyor.
"Marie Force, birbirinden samimi karakterleri ve enteresan adasıyla sizi kendine âşık edecek. Bu olağanüstü serinin devamı için sabırsızlanacaksınız." Joyfully Reviewed
"Gansett Adası'nda aşk kokusu hiç bitmiyor. Sıcak bir ada ortamı, aile bağları, sevgi dolu arkadaşlıklar ve doludizgin romantizm bir arada." Amazon
"Bir şeylerin bittiğini kabullenmenin yepyeni başlangıçlara sebep olabileceği üzerine yazılmış, dolu dolu bir aşk hikâyesi." Goodreads
Marie Force/HTJB, Inc. is a participant in the Amazon Services LLC Associates Program, an affiliate advertising program designed to provide a means for sites to earn advertising fees by advertising and linking to amazon.com.
Nothing in the world can take the place of persistence. Talent will not; nothing is more common than unsuccessful men with talent. Genius will not; unrewarded genius is almost a proverb. Education will not; the world is full of educated derelicts. Persistence and determination alone are omnipotent. 
~ Calvin Coolidge
© Marie Force/HTJB, Inc. Privacy Policy. 
Marie Force, Gansett Island, A First Family Novel, A Wild Widows Novel, A Miami Nights Novel, A Green Mountain Romance, Quantum Series, Fatal Series  and Butler, VT are registered trademarks with the United States Patent & Trademark Office.