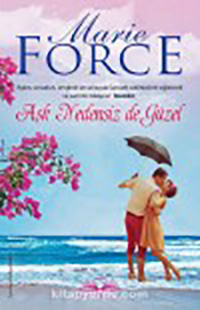 Aşk Nedensiz de Güzel
(Gansett Island)
Umut etmeyi bırakmazsan, aşk seni mutlaka bulur…
Grace hayatı boyunca şişman ve mutsuz bir kız olarak yaşamıştır. Ama bir gün kendisi ve geleceği için çok önemli bir karar alır ve mide ameliyatı olarak tam elli sekiz kilo verir. Daha önce erkeklerle hiç ilişkisi olmayan Grace, çocukluk aşkı Trey'le romantik bir gece geçirmek için Gansett Adası'na gelir, ancak bu randevu hiç de beklediği gibi geçmez. Grace, bir anda kendini ada sokaklarında beş parasız ve yapayalnız dolanırken bulur. Ne var ki kader karşısına başına buyruk, tek gecelik ilişkilerin adamı ve yakışıklı müzisyen Evan McCarty'yi çıkaracaktır.
Aşk konusunda kesinlikle beceriksiz olan bu ikili aşkın umut dolu labirentinde yollarını bulabilecek midir?
"İlk kez Gansett Adası serisinden bir kitap okuyorum, ama Marie Force'un karşı konulmaz karakterlerine ve sahnelerine bayıldım. Artık ben de Gansett Adası'nda kalıp Evan ve Grace'le takılmak istiyorum."
USA Today
"Seri ilerledikçe hikâye daha da güzelleşiyor. Marie Force'un üslubu kitabı elinizden bırakamayacağınız kadar güzel ve eğlenceli."
Amazon
"Aşkın, umudun, sevginin ve sımsıcak Gansett sakinlerinin eğlenceli ve samimi hikâyesi."
Booklist
Marie Force/HTJB, Inc. is a participant in the Amazon Services LLC Associates Program, an affiliate advertising program designed to provide a means for sites to earn advertising fees by advertising and linking to amazon.com.
Nothing in the world can take the place of persistence. Talent will not; nothing is more common than unsuccessful men with talent. Genius will not; unrewarded genius is almost a proverb. Education will not; the world is full of educated derelicts. Persistence and determination alone are omnipotent. 
~ Calvin Coolidge
© Marie Force/HTJB, Inc. Privacy Policy. 
Marie Force, Gansett Island, A First Family Novel, A Miami Nights Novel, A Green Mountain Romance, Quantum Series, Fatal Series  and Butler, VT are registered trademarks with the United States Patent & Trademark Office.