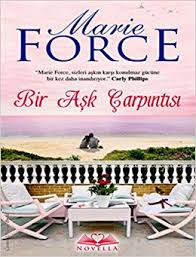 Bir Ask Carpinti
(Gansett Island)
Mac & Maddie
Hayata yön veren büyülü anlar vardır…
Gansett Adası'nda tek çocuğuyla yaşayan ve çevresi tarafından çirkin iftiralara maruz kalan dul bir kadının hayatı, bir trafik kazasıyla tamamen değişir. Bisikletiyle işine gitmek üzereyken bir arabanın kendisine çarpmasıyla çalışamayacak hale gelen Maddie, tahmin bile edemeyeceği gelişmelerle karşılaşır.
Varlıklı ve tanınmış bir ailenin en büyük oğlu Mac, bir hapishane olarak gördüğü ve üniversite bahanesiyle ayrıldığı adaya ailevi bir meseleden dolayı geçici süreliğine dönüş yapar. Doğup büyüdüğü yere adımını attıktan dakikalar sonra yaşadığı bir olay, genç adamın adaya dair düşüncelerini tamamen değiştirir.
Gansett Adası, farklı hayatlara sahip iki insana kimi zaman yürekleri burkan kimi zaman yüzleri gülümseten 
bir oyun hazırlığındadır…
Marie Force/HTJB, Inc. is a participant in the Amazon Services LLC Associates Program, an affiliate advertising program designed to provide a means for sites to earn advertising fees by advertising and linking to amazon.com.
Nothing in the world can take the place of persistence. Talent will not; nothing is more common than unsuccessful men with talent. Genius will not; unrewarded genius is almost a proverb. Education will not; the world is full of educated derelicts. Persistence and determination alone are omnipotent. 
~ Calvin Coolidge
© Marie Force/HTJB, Inc. Privacy Policy. 
Marie Force, Gansett Island, A First Family Novel, A Wild Widows Novel, A Miami Nights Novel, A Green Mountain Romance, Quantum Series, Fatal Series  and Butler, VT are registered trademarks with the United States Patent & Trademark Office.