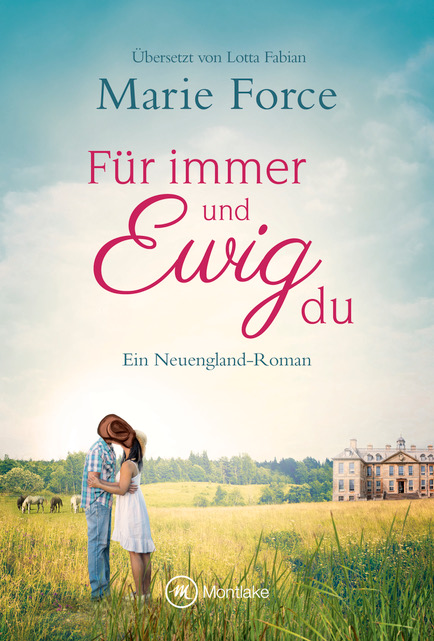 Für immer und ewig du
(Neuengland-Reihe 5)
Maggie & Brayden
Eine wunderbare Geschichte um Neuanfänge, Liebe und die Kraft der Vergebung von #1 BILD-Bestsellerautorin Marie Force.
Maggie Harrington hat ihr glamouröses Leben in New York City für immer hinter sich gelassen, um in der ländlichen Abgeschiedenheit von Tennessee »Matthews House« zu leiten, ein Heim für Familien in Not. Besonders die Kinder in ihrer Obhut brauchen viel Zuwendung, und Maggie ist überglücklich, als sie den gefragten Pferdeflüsterer Brayden Thomas für das therapeutische Reiten gewinnen kann.
Der kernige Cowboy erobert die Herzen von Kindern und Müttern im Sturm, und auch Maggie fühlt sich sehr zu ihm hingezogen. Vielleicht zu sehr. Denn er ist ein Mann mit einer dunklen Vergangenheit, die ihn nicht nur seinen Job kosten könnte, sondern auch Maggies Liebe …
Marie Force/HTJB, Inc. is a participant in the Amazon Services LLC Associates Program, an affiliate advertising program designed to provide a means for sites to earn advertising fees by advertising and linking to amazon.com.
Nothing in the world can take the place of persistence. Talent will not; nothing is more common than unsuccessful men with talent. Genius will not; unrewarded genius is almost a proverb. Education will not; the world is full of educated derelicts. Persistence and determination alone are omnipotent. 
~ Calvin Coolidge
© Marie Force/HTJB, Inc. Privacy Policy. 
Marie Force, Gansett Island, A First Family Novel, A Wild Widows Novel, A Miami Nights Novel, A Green Mountain Romance, Quantum Series, Fatal Series  and Butler, VT are registered trademarks with the United States Patent & Trademark Office.