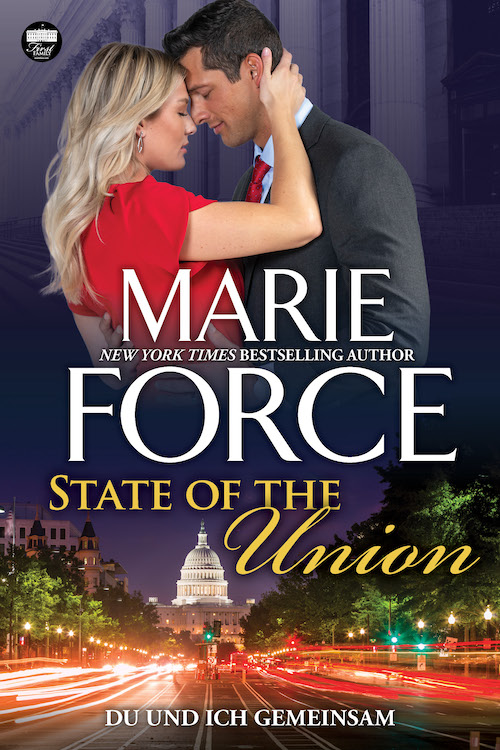 State of the Union – Du und ich gemeinsam
(First Family, Band 3)
Eigentlich waren die Weihnachtstage als dringend benötigte Auszeit für die Familie von Lieutenant Sam Holland und ihrem Mann US-Präsident Nick Cappuano gedacht. Stattdessen sieht sich Sam mit einem Serienvergewaltiger konfrontiert, der die Frauen in ihrer Stadt bedroht. Zusätzlich schlägt sich die Mordkommission weiter mit den Konsequenzen der aufgedeckten Skandale innerhalb der Washingtoner Polizei herum, deren Auswirkungen sie alle betreffen könnten.
Währenddessen bereitet sich Nick auf den bisher wichtigsten Moment in seiner Amtszeit als Präsident der Vereinigten Staaten vor: seine erste Rede zur Lage der Nation, die den Ton für seine gesamte Amtszeit setzen wird.
Glücklicherweise wissen Sam und Nick, dass sie sich auch in Krisenzeiten auf eines felsenfest verlassen können: die bedingungslose Unterstützung durch ihre Familie und ihre Liebe zueinander … 
Marie Force/HTJB, Inc. is a participant in the Amazon Services LLC Associates Program, an affiliate advertising program designed to provide a means for sites to earn advertising fees by advertising and linking to amazon.com.
Nothing in the world can take the place of persistence. Talent will not; nothing is more common than unsuccessful men with talent. Genius will not; unrewarded genius is almost a proverb. Education will not; the world is full of educated derelicts. Persistence and determination alone are omnipotent. 
~ Calvin Coolidge
© Marie Force/HTJB, Inc. Privacy Policy. 
Marie Force, Gansett Island, A First Family Novel, A Wild Widows Novel, A Miami Nights Novel, A Green Mountain Romance, Quantum Series, Fatal Series  and Butler, VT are registered trademarks with the United States Patent & Trademark Office.