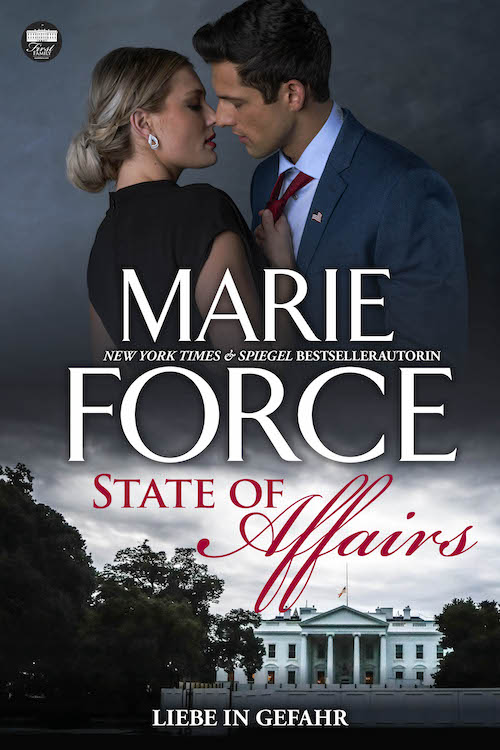 State of Affairs – Liebe in Gefahr
(First Family, Band 1)
Gerade haben Lieutenant Sam Holland und ihr Mann Nick Cappuano noch mit Freunden und Familie Thanksgiving gefeiert, da finden sie sich plötzlich auf dem Weg ins Weiße Haus wieder: Präsident Nelson ist unerwartet verstorben, und Nick muss als sein Vizepräsident und Nachfolger so schnell wie möglich den Amtseid ablegen.
Trotz aller Turbulenzen, die der Übergang von der zweiten zur ersten Familie des Landes für den Holland/Cappuano-Haushalt mit sich bringt, steht für Sam doch vor allem die Frage im Vordergrund, wie sie als First Lady weiter ihrem geliebten Job als Chefin der Mordkommission der Washingtoner Polizei nachgehen kann. Und während Nick sich mit seiner ersten außenpolitischen Krise herumschlagen muss, bekommt Sam eine Mordermittlung auf den Tisch, die zudem mit einem fünfzehn Jahre alten Fall zusammenzuhängen scheint …
Marie Force/HTJB, Inc. is a participant in the Amazon Services LLC Associates Program, an affiliate advertising program designed to provide a means for sites to earn advertising fees by advertising and linking to amazon.com.
Nothing in the world can take the place of persistence. Talent will not; nothing is more common than unsuccessful men with talent. Genius will not; unrewarded genius is almost a proverb. Education will not; the world is full of educated derelicts. Persistence and determination alone are omnipotent. 
~ Calvin Coolidge
© Marie Force/HTJB, Inc. Privacy Policy. 
Marie Force, Gansett Island, A First Family Novel, A Wild Widows Novel, A Miami Nights Novel, A Green Mountain Romance, Quantum Series, Fatal Series  and Butler, VT are registered trademarks with the United States Patent & Trademark Office.