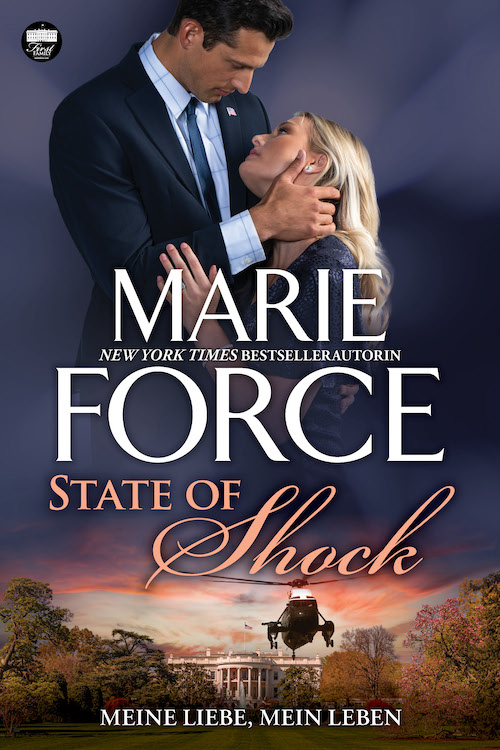 State of Shock – Meine Liebe, mein Leben
(First Family, Band 4)
Die schönen Tage mit Familie und Freunden in Camp David sind noch nicht vorbei, als Lieutenant Sam Holland sich mit einem neuen schrecklichen Todesfall konfrontiert sieht – und diesmal ist es ganz persönlich. In einem Rennen gegen die Zeit arbeiten Sam und ihr Team unermüdlich daran, Antworten zu finden und weitere Tote zu verhindern. Doch je tiefer sie in den Fall eintauchen, desto mehr wird Sam klar, dass sie zum ersten Mal an ihre Grenzen stößt und etwas tun muss, was ihr zutiefst widerstrebt: andere um Hilfe bitten.
Währenddessen ist bei ihrem Ehemann US-Präsident Nick Cappuano nach seiner wichtigen Rede zur Lage der Nation endlich etwas Ruhe eingekehrt. Doch dann ziehen am Horizont neue dunkle Wolken auf, die all seine bisher erzielten Erfolge gefährden könnten, und das Schlimmste: Sam ist nicht ganz unschuldig daran …
Marie Force/HTJB, Inc. is a participant in the Amazon Services LLC Associates Program, an affiliate advertising program designed to provide a means for sites to earn advertising fees by advertising and linking to amazon.com.
Nothing in the world can take the place of persistence. Talent will not; nothing is more common than unsuccessful men with talent. Genius will not; unrewarded genius is almost a proverb. Education will not; the world is full of educated derelicts. Persistence and determination alone are omnipotent. 
~ Calvin Coolidge
© Marie Force/HTJB, Inc. Privacy Policy. 
Marie Force, Gansett Island, A First Family Novel, A Wild Widows Novel, A Miami Nights Novel, A Green Mountain Romance, Quantum Series, Fatal Series  and Butler, VT are registered trademarks with the United States Patent & Trademark Office.