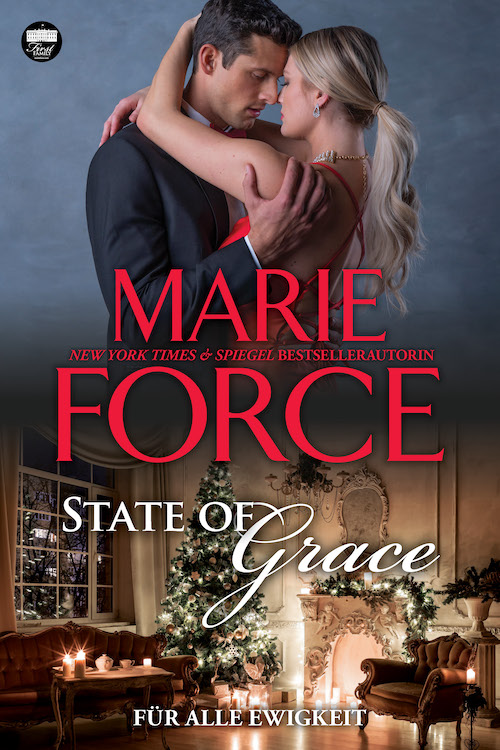 State of Grace – Für alle Ewigkeit
(First Family, Band 2)
Auch wenige Tage vor Weihnachten hat Lieutenant Sam Holland alle Hände voll zu tun, nicht nur mit den Festvorbereitungen im Weißen Haus, sondern auch mit ihrer Arbeit bei der Mordkommission der Hauptstadt. Eine allseits beliebte Ehefrau, Mutter und Geschäftsfrau ist auf grausame Art und Weise getötet worden, und Sam ist entschlossen, diesen rätselhaften Fall noch vor dem dringend benötigten Urlaub mit ihrer Familie zu lösen. Doch als ein zweiter Mord geschieht, scheint dieser Wunsch in weite Ferne zu rücken.
Während Sams Mann Nick Cappuano in einer neuen Krise wieder einmal seine Fähigkeiten als Präsident beweisen muss, findet die frischgebackene First Family in der noch ungewohnten Umgebung allmählich zu einer Routine. Aber dann gerät das Familienglück in Gefahr, und Sam und Nick müssen sich inmitten des Chaos auf das besinnen, was ihre Beziehung so einzigartig macht – ihre Liebe zueinander und zu ihren Kindern …
Marie Force/HTJB, Inc. is a participant in the Amazon Services LLC Associates Program, an affiliate advertising program designed to provide a means for sites to earn advertising fees by advertising and linking to amazon.com.
Nothing in the world can take the place of persistence. Talent will not; nothing is more common than unsuccessful men with talent. Genius will not; unrewarded genius is almost a proverb. Education will not; the world is full of educated derelicts. Persistence and determination alone are omnipotent. 
~ Calvin Coolidge
© Marie Force/HTJB, Inc. Privacy Policy. 
Marie Force, Gansett Island, A First Family Novel, A Wild Widows Novel, A Miami Nights Novel, A Green Mountain Romance, Quantum Series, Fatal Series  and Butler, VT are registered trademarks with the United States Patent & Trademark Office.